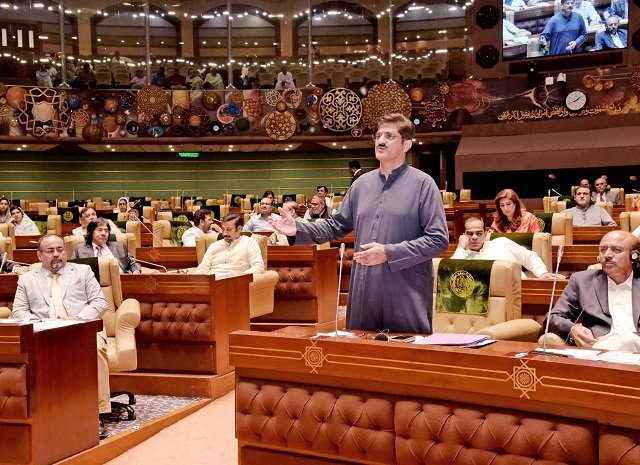 ---
KARACHI: Sindh Chief Minister Syed Murad Ali Shah said on Monday that it was a historic day as the provincial government of the Pakistan Peoples Party (PPP) was completing its five-year term for the second time in a row.

"This is the triumph of the people of Sindh who had elected the assembly and it is the victory of the democracy Shaheed Mohterma Benazir Bhutto laid her life for," he said while addressing the farewell cabinet meeting here at the CM House.

The meeting was attended by all the provincial ministers, advisers and special assistants, chief secretary Rizwan Memon, Chairman P&D Mohammad Waseem, Principal Secretary to CM Sohail Rajput and other concerned officials.

CM Shah said that during his 22-month tenure, he worked day and night with dedication and honesty to serve the people of Sindh who had elected them. "Our people [of Sindh] voted us to power and without any discrimination we served them to the best of our abilities," he said.

Sindh Assembly, Cabinet tenure ends at 12am today

Murad Ali Shah said that he focused on health, education, development t of infrastructure and restoration of law and order and with the grace of the Almighty "we succeeded not only restoring law and order but promoted sectarian harmony and today our province has again turned as a cradle of peace and tranquility."

Speaking about development of infrastructure, the chief minister said that he has equally developed rural and urban areas. "Karachi gives a most beautiful look and with the restructuring of road network, underpasses and overhead bridges the issues of smooth flow of traffic would be resolved to some extent, but the solution of traffic jam lies in construction of BRT and KCR," he said.

He added that work on BRT system was in progress while the KCR was in the pipeline.

Shah said that road network and construction of bridges on river Indus have connected almost all the districts of the province. "We have reduced distances from one district to another," he said.

He proudly talked about Thar Coal projects, claiming that generation of electricity from Thar coal is only a few months away. "The mining work is at the completion stage and installation of power plant is also almost over," he added.

Sindh Assembly approves budget for fiscal year 2018-19

The outgoing CM said that the concept of public private partnership (PPP) worked well in Sindh. "Under the PPP arrangement we have constructed a bridge on River Indus, constructed Karachi-Thatta dual carriage way and various other roads and various other projects are in the pipeline," he said.

The Sindh CM thanked the leadership of Pakistan Peoples' Party for posing confidence in him and his cabinet. PPP leaders Nisar Khuhro, Manzoor Wassan, Syed Sardar Shah and others lauded the efforts and energy of the chief minister who worked day and night to complete the projects.

Murad Shah in his concluding remarks said that he and his cabinet were returning to the people for election.

"I am happy that we have done something better for the people of Sindh in the shape of good infrastructure, better health services, good education and again we would serve them to the best of our abilities," he said.
COMMENTS
Comments are moderated and generally will be posted if they are on-topic and not abusive.
For more information, please see our Comments FAQ