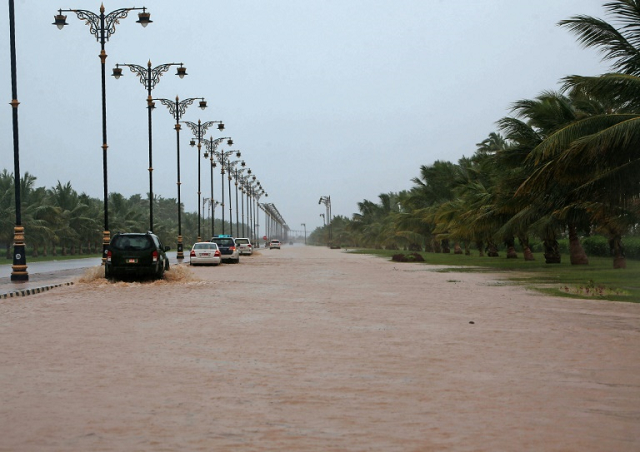 ---
OMAN: Cyclone Mekunu was downgraded further to a deep depression Saturday, a day after lashing the southern coast of Oman and killing at least two people, authorities said.

Civil defence officials said a man and a 12-year-old girl were killed, while three Asian nations were missing after the cyclone hit Oman's Dhofar and AlWusta provinces.

Oman police earlier reported that the man died after floods swept him away with his car near Salalah, Oman's second-largest city, while the girl died when a gust of wind smashed her into a wall.

Mekunu, which has wreaked havoc in Yemen's Socotra island killing at least seven people, was heading northwest to Saudi Arabia, Oman's directorate of meteorology said.

One dead as Cyclone Mekunu hits southern Oman

It is expected to hit parts of the Empty Quarter, one of the world's most arid deserts, later Saturday, it said.

The meteorology department said the latest weather charts and satellite imageres indicate that Mekunu's intensity has dropped to "a deep depression".

It warned however that heavy rain and strong winds of about 60 kilometres an hour would continue to pummel Dhofar and AlWusta provinces, while sea conditions were rough with high tides reaching eight meters.

Mekunu had intensified to a category two cyclone as it hit Dhofar and AlWusta on the Arabian Sea on Friday, battering the coast with torrential rains, strong winds and massive waves.

Three wounded Asians were rescued and civil defence teams said they had saved hundreds of people including 260 foreign sailors trapped at sea.

Five people dead, 40 missing in Yemen's Socotra after cyclone

Five Yemenis and two Indian sailors were confirmed dead when Mekunu hit Socotra in war-torn Yemen on Thursday, causing heavy damage, Yemen's fisheries minister Fahad Kafin said.

The government declared the island in the northwest Indian Ocean, part of a UNESCO-protected archipelago for its rich biodiversity, a 'disaster' zone.

Rescue teams on Friday found alive four Indian sailors who were among 17 who had been reported missing when the cyclone hit Socotra's port, and search operations are continuing for eight Indian sailors.

In Salalah, the heavy rain had almost stopped on Saturday, an AFP photographer said, but many streets were still under water and nearby valleys were flooded.

Material damage was mostly limited to agriculture, with many farms swept by winds blowing at up to 170 kilometres, he added.
Oman's civil aviation meanwhile decided to reopen on Sunday Salalah Airport, which had been closed for the past three days.

Authorities said however that schools would remain closed until Monday.
COMMENTS
Comments are moderated and generally will be posted if they are on-topic and not abusive.
For more information, please see our Comments FAQ