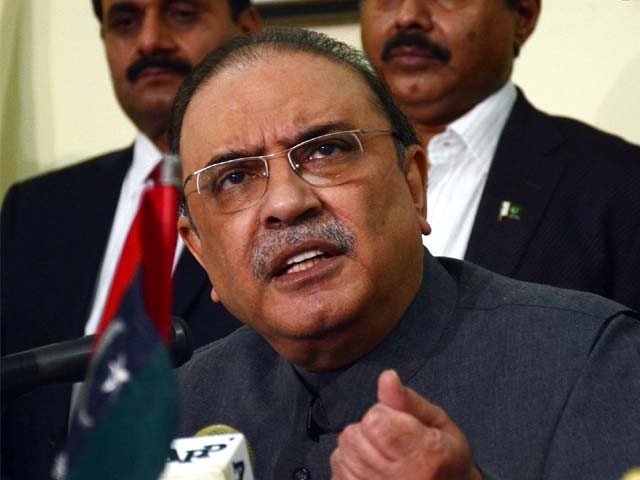 ---
KARACHI: While announcing that he will contest the upcoming elections from his hometown of Nawabshah, Pakistan People Party (PPP) Co-chairman Asif Ali Zardari has predicted that no single political party of the country will be able to get majority in the polls slated for July 25.

"Pakistan Tehreek-e-Insaf (PTI) chief Imran Khan's wish to sweep the election and become the prime minister is only his dream which can't come true," Zardari said while speaking to journalists on Saturday at the CM House where an Iftar dinner was arranged by Sindh Chief Minister Murad Ali Shah.

General elections on July 25 – it's official

However his son, PPP Chairman Bilawal Bhutto Zardari, disagreed and claimed that the PPP would get majority seats in the polls from all over country.

Zardari said democracy is the only solution to terrorism, adding that merger of the Federally Administered Tribal Areas (Fata) with Khyber-Pakhtunkwa (K-P) was the vision of Zulfikar Ali Bhutto, carried forward by his daughter Benazir Bhutto and her party.

"Politics was allowed in Fata during the tenure of ZA Bhutto who had announced the merger of the tribal areas [with K-P] within ten years. His daughter [Benazir] pursued his vision and took the issue to the court. And we in our last government organised a jirga on this issue at the President House," he added.

Zardari laid stress on transparent election process and said, "I hope the upcoming election will be different from RO [Returning Officers] elections of 2013."

Bilawal criticised the PTI chief and said, "The PPP's five-point agenda is to dominate all the PTI's points revealed by Mr [Imran Khan] Niazi."

No government can be formed without PPP, says Zardari

He said the people of Pakistan would now have to determine whether this country belonged to the poor or the rich.

Appreciating Sindh government's last five years performance, he said the provincial government under the leadership of incumbent CM broke earlier record of development.

"The federal government of the PML-N created problems by not releasing funds, but the Sindh government using available resources made difference in health, education and law and order.  I don't think there is an ideal situation in Sindh, but we are doing our best," he said.

Bilawal vowed to bring police reforms in the province but refused to comment on former spymaster Asad Durrani's controversial book he has co-authored with a former RAW chief. "I have not read the book, so I can't comment on it," he said.


COMMENTS (1)
Comments are moderated and generally will be posted if they are on-topic and not abusive.
For more information, please see our Comments FAQ