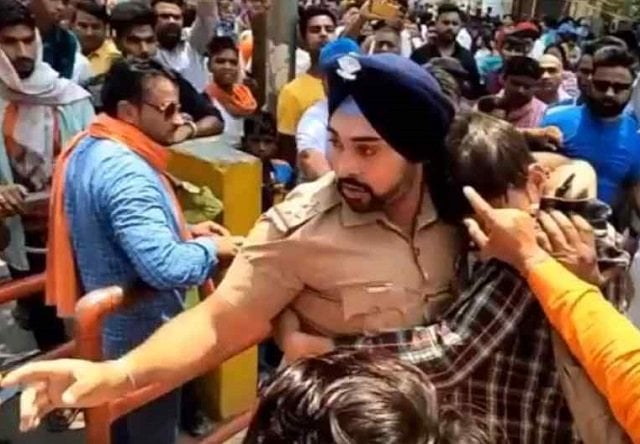 ---
In a rare act of valour, a Sikh police officer shielded a Muslim man from being violently attacked by an angry mob in the Indian state of Uttarakhand, the local media reported.

A video of the incident, which took place on May 22 in Ramnagar, has gone viral.

The mob, comprising extremist Hindus, wanted to attack the boy, who was allegedly discovered meeting a Hindu girl inside a temple in Garjiya village.

The cop, identified as Sub-Inspector Gagandeep Singh, can be seen shielding the boy in the video, as the mob attempts to beat him.

Three dead as Hindu-Muslim riots break out at religious festival in India

According to the local media, the boy's affair with a Hindu girl did not go down well with the crowd, who tried to lynch him. The crowd can also be heard asking for the boy's identification in the video.

The charged crowd can be heard chanting anti-police slogans and demanding his custody as Sub-Inspector Gagandeep tries to protect him from being lynched. The mob had also shut the temple gates in a bid to foil the Muslim boy's escape attempts.



This article originally appeared on inUth.