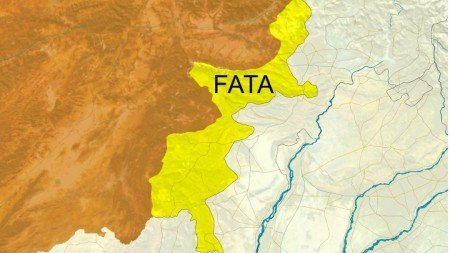 ---
PESHAWAR: In a show of solidarity for the greater good, the opposition Pakistan Peoples Party (PPP) on Thursday withdrew its no-confidence motion against the provincial assembly speaker so that the assembly can convene and vote for a bill which would see the tribal areas merged with the settled areas.

PPP leader and Khyber-Pakhtunkhwa (K-P) Assembly member Ziaullah Afridi on Thursday withdrew his no-confidence resolutions against assembly speaker Asad Qaiser.

Afridi had submitted a no-confidence resolution against the speaker Qaiser on May 15. But the resolution had not been taken up by the assembly the government kept postponing the session.

But with the National Assembly voting 229-1 to pass the 31st Amendment Bill 2018, on Thursday to merge the Federally Administered Tribal Areas (Fata) in K-P, it became mandatory for the bill to be passed with a two-thirds majority from the provincial assembly.

Draft bill to amend Constitution for merger of FATA with K-P

The Article 239 (4) of the Constitution states that a bill to amend the constitution has to be passed from the respective provincial assembly with two-thirds votes if it alters the limits of the province before sending the bill to the president for signing it into law.

But Afridi's resolution meant that whenever any session of the provincial assembly is held, his motion would be the first item on the agenda and would then put in abeyance any other matter of the house till a vote for the speaker is held.

Given the Pakistan Tehreek-e-Insaf (PTI) precarious position in the assembly after expelling eight lawmakers for allegedly partaking in horse-trading during the Senate elections, Qaiser was sure to lose the vote, requiring proceedings to elect a new speaker of the house.

This weak position meant that the K-P government was hesitant to even hold a budget session and had postponed the assembly session four times.

Federal cabinet clears bill for FATA, K-P merger

While withdrawing his resolution, Afridi told the media that he took the step on the directions of his party leadership and in the best interest of the people of Fata.

Although the government has not summoned a session of the assembly even after Afridi withdrew his resolution, a session is expected to be summoned before the government's tenure ends on May 31 to pass the 31st amendment.

The K-P assembly has a total of 124 seats which means that the bill requires 82 votes to pass. Sources say that the bill should sail through the assembly through the combined voting power of the treasury and opposition benches. Only the Jamiat Ulema Islam-Fazl (JUI-F), which has 16 lawmakers in the house, is expected to oppose the bill.

Published in The Express Tribune, May 25th, 2018.
COMMENTS
Comments are moderated and generally will be posted if they are on-topic and not abusive.
For more information, please see our Comments FAQ