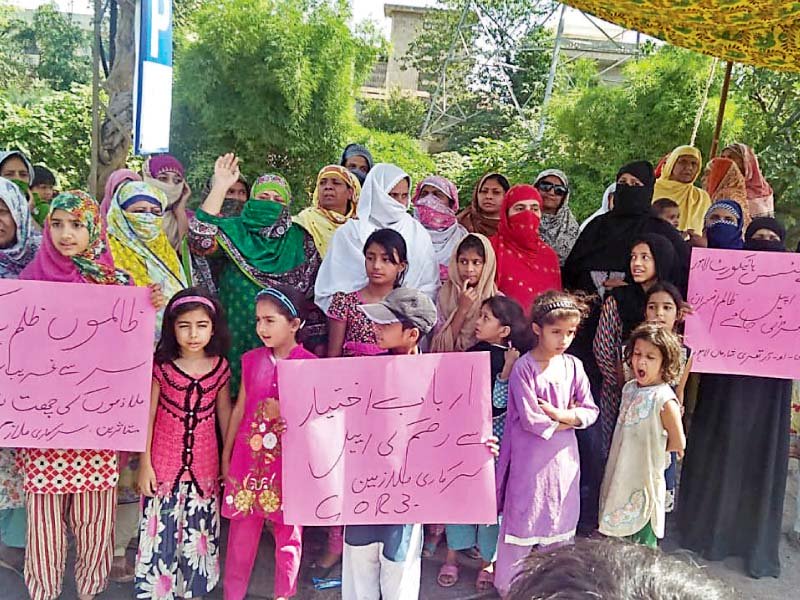 ---
LAHORE: A large number of employees of building department residing at GOR-III Shadman staged a protest demonstration again on Thursday against their eviction from their homes.

They shouted slogans against the decision and demanded of the authorities to revert the decision. The protesters also shouted slogans against the government officers forcing them to leave their place. Fareed Khan, a local resident, told The Express Tribune that they had been living here for the past 40-50 years. It was their third generation that was living in these houses. There were at least 24 houses and all of them were of the employees of the colony working as plumbers, gardeners, electricians or security guards. About 40 years ago their elders had sought permission and help from officers residing in the colony and started building their houses on empty spaces that were of no use. Later on, they kept on renovating and furnishing their houses with their savings. After their parents, the children were given jobs and they started living in these houses.

A week ago, they were told to evacuate the houses. "We were never issued notices or warning. They (authorities) came and told us just to leave," Qurban Ali complained. He said the news of eviction was like a bombshell for them.

Authorities 'helpless' in Services Hospital lynching case

"A few words of command from the mouth of some influential have rendered us homeless in seconds." He termed it injustice claiming that they have been serving the colony and its residents for decades and they do not deserve eviction. "It is the month of Ramazan and they have asked us to leave our homes. While others are fasting and offering prayers, we are staging protests to save our homes," he added.

The orders of eviction were issued by Service and General Administration Department (S&GAD). A notification issued by S&GAD, a copy of which is available with The Express Tribune, read: "During a meeting dated 09-04-2018 held under the chairmanship of Registrar Honourable Lahore High Court Lahore regarding security arrangements in GOR-II and GOR-III, the superintending engineer (buildings) confirmed that definitely some workers of buildings department have constructed temporary structures and residing there since long. The chair directed him to remove the structures forthwith. Subsequently, the undersigned also requested to your good self to prepare a report about such residents of the building department and to remove those structures also which have not been pointed and submit a report to the additional secretary (Welfare) and S&GAD immediately."

A protester said if an officer has an issue with the security, he should ask the departments concerned to beef up his security. "How0 our eviction and demolishing of our houses is going to contribute to improving the security?" he added.

The protesters vowed to enhance the scale of their protests if the authorities did not accept their demands. They threatened to block Ferozpur Road and stage a sit-in outside Lahore Press Club also.

Published in The Express Tribune, May 25th, 2018.
COMMENTS
Comments are moderated and generally will be posted if they are on-topic and not abusive.
For more information, please see our Comments FAQ