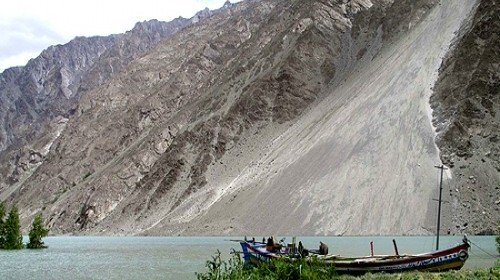 ---
Chairman of the National Disaster Manangement Authority (NDMA) Lt General (retired) Nadeem Ahmed said that the spillover of Attabad lake has started.

Talking to Express on Saturday, the NDMA chief said that all the safety measures have been taken and the initial outflow from the lake will be 300 cusecs.

The chairman said that the spillway was created to minimise the risk of danger and the target has been achieved so far. He said that the water outflow has been slow so far, but will increase after melting glaciers raise the water level in the lake.

The NDMA chairman said that the spillway has reduced the water pressure by half. He added that the arrangements are in place to deal with any untoward situation.

Experts said that the overflowing water is expected to reach the Hunza river within an hour. A team of experts is keeping a check on water movements through aerial monitoring.

Sixty two villages have been evacuated in the area and 40 per cent of the local population has been shifted to IDP camps whereas traffic on the Karakoram Highway has been suspended.

Local administration has warned residents not to venture into low-lying areas.

Special prayers are being offered in Hunza Nagar as locals  fear the worst.
COMMENTS (7)
Comments are moderated and generally will be posted if they are on-topic and not abusive.
For more information, please see our Comments FAQ