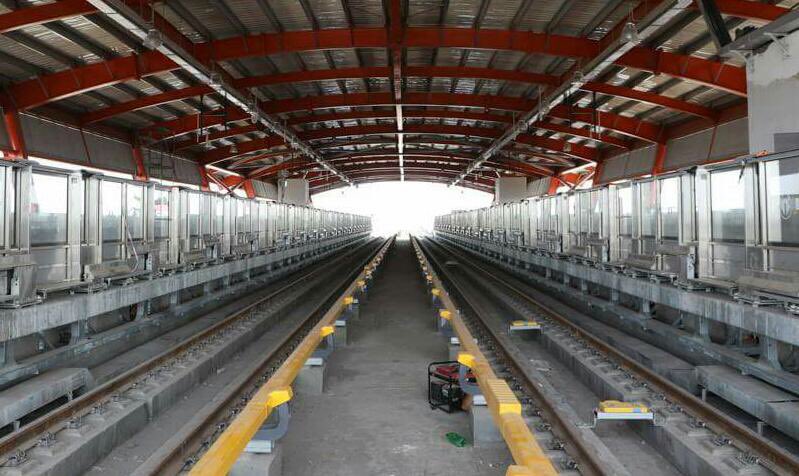 ---
Punjab Chief Minister Shehbaz Sharif has travelled in the second test run of the Orange Line Train (OLT) in Lahore on Wednesday, Express News reported.


Orange Line Metro Train project was delayed for 22 months due to the stay order. Honorable Supreme Court of Pakistan gave green signal to Orange Line Metro Train after 22 months to resume the work and first successful test run was done within 2 months. #OLMT #MetroTrainChalayGi pic.twitter.com/tU5A0Pjy2M

— Punjab 2013-18 (@Punjab13to18) May 16, 2018


The 11km test run, from Dera Gujran to Lakshmi Chowk, was free of cost for travellers.

CM Shehbaz would be joined by Chinese consulate general, adviser to the chief minister Khawaja Ahmed Ehsan, Chief Engineer LDA Mazhar Hussain Khan and project directors.


All 27 Orange Line trains arrive in Lahore



Chief Minister Punjab @CMShehbaz will inaugurate the test run of Orange Line Metro Train shortly. #MetroTrainChalayGi pic.twitter.com/PgsO35tUNV

— Punjab 2013-18 (@Punjab13to18) May 16, 2018


Previously, the test run was scheduled for May 17, however, the decision to prepone the inaugural ceremony was taken in accordance with the commencement of Ramazan.


The OLMT is Pakistan's first mass rapid transit train project launched by the Punjab government. It will prove to be a real game changer for the people of Lahore and Punjab, who will experience a comfortable, secure and economical travelling facility. #MetroTrainChalayGi pic.twitter.com/rvdTrQKob4

— Punjab 2013-18 (@Punjab13to18) May 16, 2018


The OLT extends over a route of 27km covering a total of 26 stations ranging from Dera Gujjran (Raiwind Road) to Ali Town (GT Road). Out of these, 24 stations are elevated while two are underground.

Basically, this project was initiated with a signed memorandum of understanding (MoU) between Pakistan and China in May 2014.

Financing was secured in December 2015 when China's Exim Bank agreed to provide a soft loan of Rs165 billion for the project. Originally the completion of this project required 27 months but now it is expected to be completed by October 2019.