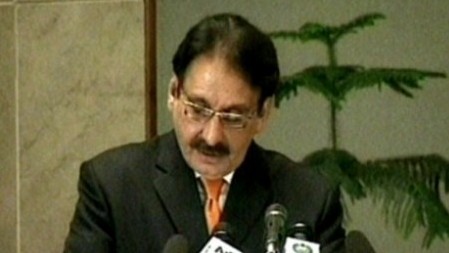 ---
ISLAMABAD: Chief Justice Iftikhar Chaudhry should not be part of the 17-member bench of the Supreme Court hearing petitions against the 18th amendment, says the government in its rejoinder to the petitions filed against the 18th amendment.

The rejoinder against the petitions filed by lawyer Nadeem Ahmed and the Pakistan Lawyers' Forum was prepared by Dr Abdul Basit on behalf of the government. It is to be filed in court today but was leaked to the media late on Friday night.

In the rejoinder, the government has objected to Chaudhry's inclusion in the 17-member bench currently hearing the 15 petitions challenging the 18th amendment on grounds that he is a direct beneficiary in this case.

Talking to The Express Tribune, Basit said that he has submitted in his reply that "since the CJ is a direct beneficiary in this case, he should not be the part of the larger bench."

Basit added that since the 17-member bench does not include Justice Zahid Hussain, it cannot be a full bench. All judges of the SC have to be included in a full bench, he insisted. And the court has not provided an explanation for Hussain's absence.

In support of his argument, Basit cited Justice Khalil-ur-Rehman Ramday's July 31, 2009 judgement in the so-called judges' case, which held that no judge can be rendered non-functional unless he is thrown out of the SC. "By not including Justice Hussain, the SC is negating its own judgement," he said.

According to Basit's reading of article 239 of the Constitution of Pakistan, any legislation passed by parliament cannot be challenged in the SC. Thus the SC, argues Basit, should not take up this case.

In his reply, Basit points out that through the 18th amendment, specifically through article 175-A, the judiciary has gained many freedoms it once did not have.

Basit also highlights the complications and flaws that existed in the earlier procedure for the appointment of judges in his rejoinder.

"The authority to appoint judges should not rest with one individual," he says. "Allowing a single individual to appoint judges resulted in a weak judiciary that could not even resist martial law in the past."

Published in the Express Tribune, May 29th, 2010.