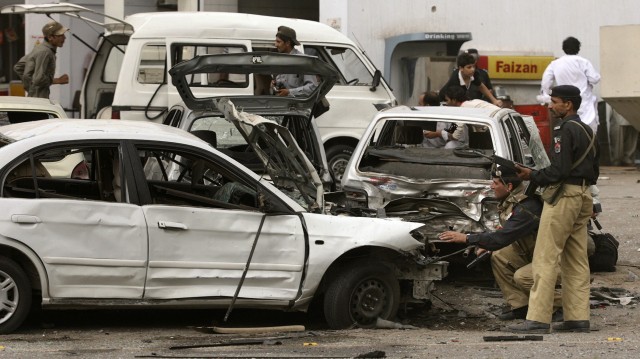 ---
LAHORE: The mourning members of the Ahmedi Community have lashed out at government and police officials for not responding to panic calls in a timely manner.

Several agitated men stated that they made several phone calls to law enforcement agencies after Baitul Noor was attacked.

At least 23 worshipers were killed while several others were injured.

Community leader Nasrullah Baloch, who was at Baitul Noor when it was targeted, stated that he immediately called the local police who failed to react  swiftly.

He said that two courageous Ahmedi men managed to overpower and seize two terrorists. Nasrullah complained that he again contacted the 15-police emergency service as well as the local police and was put on hold.

He said that policemen urged him to keep the terrorists tied up somewhere and claimed that police squads had already been dispatched.

Nasrullah stated that despite repeated assurances, the first police mobile arrived at Baitul Noor 45 minutes after the incident.

He added that a retired army colonel meanwhile contacted and requested the Lahore Corps Commander to send the armed forces to rescue those trapped inside the building. The leader alleged that even the commander disappointed and abandoned them in their hour of need.

Nasrullah stated that the deaths of Vice President (city level) and Lieutenant General (retd) Chaudhary Naasir Ahmad and Shiekh Munir the circle leader in the Model Town attack were not insignificant incidents.

He stated that their deaths were a massive, regrettable loss for their community.

He added that their community had informed the law enforcement agencies on several occasions in the past six months that the security arrangements at their places of worship were extremely inadequate.

He said that community leaders had expressed these concerns after receiving several threatening phone calls from right-wing elements. He stated that Sheikh Munir, who was also a former judge of an accountability court, had approached the Punjab inspector general on more than one occasion and asked him to enhance the security at Baitul Noor and Darul Zikr in Garhi Shahu. The leader stated that not one of Sheikh Munir's letters that explicitly pointed out security lapses was answered.

Inspector Javed of Model Town police station told The Express Tribune that three constables and an assistant sub inspector had been deputed outside Baitul Noor. He admitted that members of the Ahmedi community had captured the attackers for the police but denied that there had been a delay in police emergency response.

He added that he would send his recommendations to senior police officials and ask them to announce cash prizes for the young men who had overpowered the terrorists and saved many lives.

Published in the Express Tribune, May 29th, 2010.