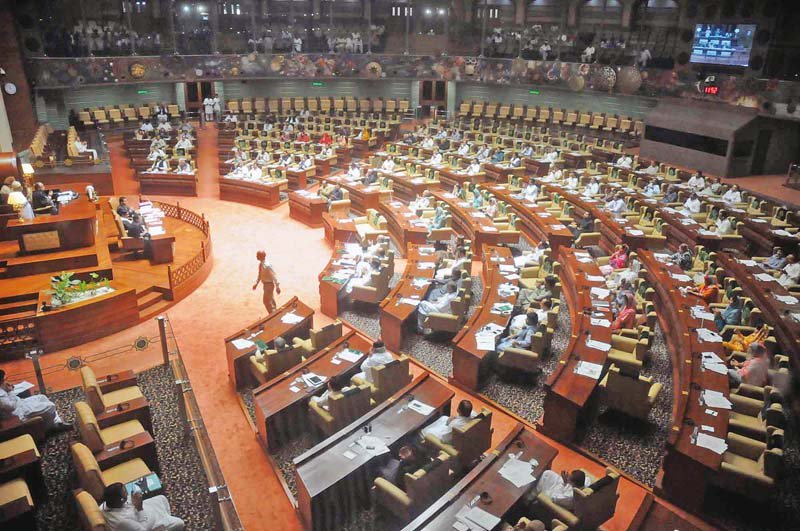 ---
KARACHI: The Sindh Assembly passed on Wednesday the Sindh Home Based Workers Bill, 2018 to protect the rights of home-based workers and ensure equal treatment to them and their dependents in case of sickness, maternity leave, injury or death.

The law, which was presented by Home Minister Ziaul Hasan Lanjar, stated that all home-based workers involved in the production and manufacturing of goods or rendering of services at a home premises or any other place near a home will benefit from this law. Under this law, the government will establish a council for the identification and mapping of home-based workers in different sectors. The council will also register these workers to look after their remuneration, contract or other rewards.

It will also maintain the record of home-based workers and establish regional, divisional and district-level committees for this purpose. The council will comprise representatives from various departments, such as the finance and social welfare departments, directorate of labour welfare and three members from the trade union and home-based workers unions.

"Every registered home-based worker will be entitled to all those social, medical and maternity benefits, compensation, marriages and deaths grants envisaged in all labour laws, including the Sindh Industrial Relation Act, 2013 and Sindh Terms of Employment (Standing Orders) Act, 2016," reads the law. Under this law, an arbitration committee will also be formed for the settlement of disputes between workers and employers.

Bill to regularise teachers to be presented in Sindh Assembly today

According to the law, a survey of home-based workers will be conducted and the government will allocate funds. "The government will also establish counters in each district and arrange mobile health counters providing health facilities to home-based workers at their doorsteps, repeatedly visiting their workplaces," the law said, adding that the law will discourage child labour.

"We are going to register home-based workers and regularise them in order to give them benefits," said Lanjar.

Irrigation employees regularised

The Sindh Assembly also passed a bill to regularise the services of 2,600 employees appointed on 'contingent' or 'work charged' basis in the irrigation department's Left Bank Outfall Drain (LBOD).

When the law minister moved the LBOD bill, the leader of the opposition opposed the law, saying they had not read the bill yet and so it should be deferred.

"Today, we have received these bills in the House. No members in the assembly, including the treasury members, have gone through these bills. It is unfair to pass these laws in haste," said Khawaja Izharul Hasan. All opposition members endorsed the leader of the opposition and called the legislation a political move. The government wants to give jobs for electoral gains, he accused, questioning why this bill was passed after the assembly's tenure is going to end.

Mehtab Akbar Rashdi of Pakistan Muslim League - Functional (PML-F) was of the view that work charge is a temporary position and these posts are not created. "These are daily wagers. It will be unfair to give permanent jobs to these people," she said.

Sindh Assembly turns to CJP to solve water crisis in the province

Syed Sardar Ahmed of the Muttahida Qaumi Movement said that opposition members were not against the law and requested that all members be allowed to read it. The law minister said the government had earlier sent the order of the day, including the bills, to all members and the government wanted to pass the law as soon as possible. Briefing about the objectives of the bill, the law minister moved a motion for consideration of bill and a majority of the members voted in its favour.

PTI submits motion in Sindh Assembly requesting to de-seat CM

Lanjar said these employees have been working for the last 18 to 20 years and now employees of lower grades working on work-charge basis will be regularised. "There is no legal bar to giving them permanent jobs," he explained, adding that there were no political motives behind it and the jobs are being given purely on merit. "I request all assembly members to please support this law on humanitarian grounds," he said.

During the question and answer session, the prisons minister said that there are three jails - Karachi, Sukkur and Hyderabad - where high-profile prisoners are kept. "Around 275 dangerous prisoners are languishing in these prisons," he said. According to minister, the provincial government has proposed the construction of a jail in Jhirk, Thatta, which is an isolated area. Dangerous prisoners will be jailed at the proposed prison. "We have acquired the land for it too," he added.

Regularisation of doctors

The assembly also passed a law to regularise 229 doctors appointed on contract or adhoc basis in rural areas of Sindh in 2014. Moving the bill, Lanjar said that doctors in different categories were appointed at different health facilities and they have worked hard to functionalise basic health and rural centres, so the government is giving them permanent jobs.
COMMENTS
Comments are moderated and generally will be posted if they are on-topic and not abusive.
For more information, please see our Comments FAQ