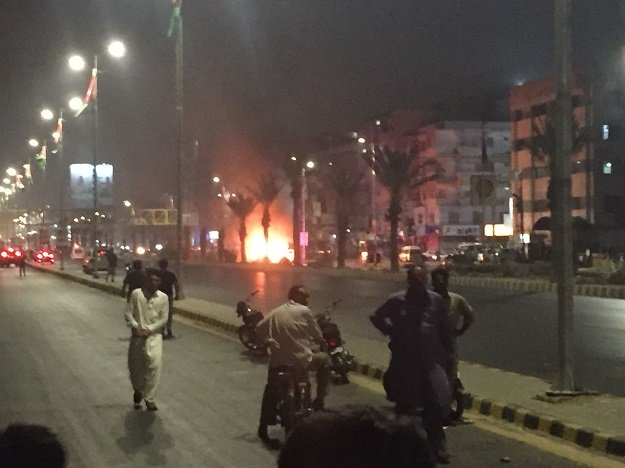 ---
KARACHI: The morning after Karachi's Gulshan-e-Iqbal witnessed massive panic as PTI and Pakistan Tehreek-e-Insaf (PTI) battled over Hakeem Saeed Shaheed Ground, the latter has announced to back-off 'only' if neither party is given access to the venue for the jalsa.

Speaking to media on Tuesday, PTI leader Ali Zaidi said PPP chairperson Bilawal Bhutto Zardari had a free hand in deciding venue for political gatherings. "He does not need written permission from commissioner Karachi," he said. "There will be no rally on this venue. We will announce further course of action in the evening. We are waiting for PPP to respond."

PTI Karachi Division President Firdous Shamim Naqvi reiterated that no party should be allowed to use the ground.

Commissioner Karachi misbehaves with journalists

Meanwhile, Commissioner Karachi Ejaz Ahmed Khan lashed out on his staff for allowing media persons in the conference room of the comissioner's office. Later, the media persons demanded an on-camera apology.

The incident was condemned by PTI leaders, who were also at the commissioner's office for a meeting. "I strongly condemn the treatment handed out to journalists by the commissioner," said Naqvi.

PTI leader Imran Ismail also accused the ruling party of stationing 'their' people in all government departments.

PTI's attempt to lodge FIR

Following the clashes, PTI leaders arrived at the Aziz Bhatti Police Station to lodge a first information report (FIR) against PPP leaders but the police refused to register the case against Sindh Chief Minister Murad Ali Shah, Bilawal, PPP Co-chairman Asif Ali Zardari and PPP MPA Saeed Ghani.

Zaidi announced to approach courts if Sindh Police fails to register FIR against PPP leaders.


PTI vs PPP: Karachi rally ground turns into battlefield



Update : PTI leaders at Aziz Bhatti Police Station to launch an FIR against PPP goons. #کراچی_مانگے_انصاف @AliHZaidiPTI @HaleemAdil @KhurrumZamanPTI pic.twitter.com/Vlw0Dwpti3

— Tehreek-e-Insaf (@InsafPK) May 7, 2018


On the other hand, Ghani said PPP was set to file a case against PTI as well. Speaking to the media, PPP leaders demanded a judicial commission to probe the issue. "I am a minister but I request the chief minister to form a judicial commission to ensure culprits are punished."




Despite the late night theatrics, it is still not clear which party will be allowed to hold the public gathering. PTI had earlier requested to hold the gathering at Mazar-e-Quaid. Sources told The Express Tribune that keeping in view the tense situation, chances were that both the parties will be prevented from organising the gathering at the Hakeem Saeed Shaheed Ground.

Alliance with PTI impossible before elections: Bilawal

At least a dozen people, including journalists, were injured in the clashes that erupted between party workers after PTI set camps in the Hakeem Saeed Shaheed Ground. At least two were moved to Jinnah Postgraduate Medical Centre for bullet wounds. SHO Aziz Bhatti Police Station Humayun Ahmed was also among the injured. Political workers also set cars, motorcycles ablaze. PPP claimed 25 workers were injured in the clashes. "Our vehicles have been set on fire. PTI workers with guns opened fire."


See the real face of #PTI terorrist they are throughing Stones on peaceful #PPP worker shame on PTI #KarachiRejectsPTI #Karachi @Majid_Agha @SyedNasirHShah @NazBaloch_ pic.twitter.com/F2etKMuAC0

— Malik Kamran Zil (@kamran_zil) May 7, 2018
PTI leadership should immediately ask their workers to stop the violence in Khi. Burning vehicles attacking police and media officials by PTI workers is uncalled for. PPP promotes peace and tolerance. Khi has already suffered political militancy for decades, No More plz! pic.twitter.com/mDBOdWlt8Y

— Naz Baloch (@NazBaloch_) May 7, 2018


The situation was contained after a heavy contingency of Sindh Police and Rangers reached the spot. Sindh Home Minister Sohail Anwar Siyal and PTI's Faisal Vawda also arrived at the scene to curtail the clash. Taking notice of the issue, CM Sindh said since PPP had acquired a NOC it was unreasonable for PTI to encroach upon the venue.

PTI chief Imran Khan condemned the incident on micro-blogging site Twitter and quipped that the incident reflected PPP's fear over PTI's rising popularity.


Strongly condemn the attack on PTI workers by PPP at our jalsagah camp in Karachi yesterday. Sindh govt must take action against those who used violence against our workers. Strong arm tactics by PPP reflects their fear of PTI's rising popularity in Sindh.

— Imran Khan (@ImranKhanPTI) May 8, 2018


How the clashes began

The entire day, both the parties were engulfed in attempts to stamp the ground for their respective rally on May 12.

Where the PPP backed their claim to host the rally with an NOC granted by the Office of Deputy Commissioner Karachi East, PTI accused the ruling provincial government of misusing power.


This is called misuse of power & authority! @BBhuttoZardari u & ur corrupt team can dance all you want, use all govt resources on tax payer funds but Karachiites have rejected u before & will inshallah again reject u! Enough of Uzair Baloch type politics. pic.twitter.com/UJGCTeBxcJ

— Ali Haider Zaidi (@AliHZaidiPTI) May 7, 2018


PPP lawmaker Saeed Ghani addressed a press conference flaunting the NOC. He said the party had inquired from the district administration if the ground was already booked for any event. "The DC confirmed that the ground was vacant [on the date] and no other party had filed any application for a public gathering. Subsequently, we wrote to him and announced the event," he told media. Ghani accused PTI of creating an unnecessary controversy.


LIVE: #PPP President Karachi Division @SaeedGhani1 addressing a press conference at Media Cell Bilawal House #Kara… https://t.co/PJH8QgCzuw

— PPP (@MediaCellPPP) May 7, 2018


But Naqvi insisted that it was, in fact, his party that had originally planned to organise a public gathering in the ground. He claimed PPP had already been informed.  We were told that PPP was holding the event in Baldia Town hence we opted for Gulshan-e-Iqbal.


COMMENTS
Comments are moderated and generally will be posted if they are on-topic and not abusive.
For more information, please see our Comments FAQ