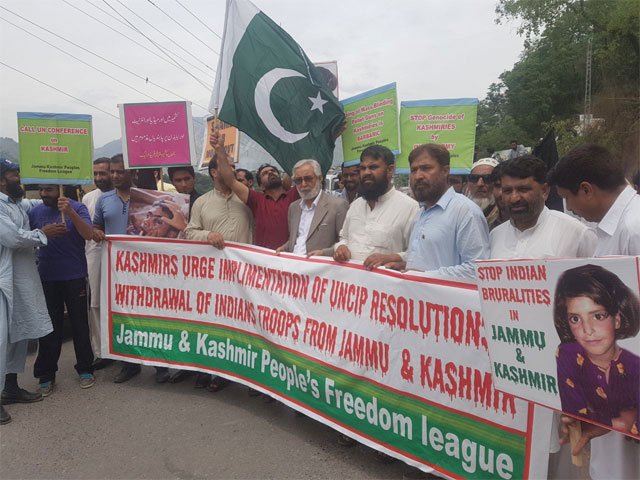 ---
MUZAFFARABAD: Protesters once again took to streets in occupied Kashmir on Saturday demanding justice for Asifa Bano, the eight-year-old girl who was raped and murdered near Kathua city.

The bruised and battered body of Asifa, who belonged to a Muslim nomadic tribe of herders, was found in a forest on January 17.

Police had said that the eight perpetrators accused in connection with the rape and murder of Asifa were all Hindu men who kidnapped the child on January 10 when she had gone to fetch the horses grazing on the meadow.

On Saturday, Jammu & Kashmir People's Freedom League (JKPFL) held a peaceful protest demonstration at main Secretariat Road. Holding placards and banners inscribed with anti-India slogans, the participants marched from the Central Press Club to Burhan Wani Chowk near Domel.

OIC body lambasts Indian atrocities in occupied Kashmir

They raised slogans against India and accused the BJP-backed administration in Jammu of trying to play down the rape and murder to save the culprits.

The protesters also demanded withdrawal of troops from held Kashmir and implementation on the UN Security Council resolutions on Kashmir.

The girl students of different schools also joined the protest and other school going children of held Kashmir who have been blinded by India's pellet guns.

Addressing the rally, JKPFL chairman Muhammad Farooq Rehmani said children and women are being abducted, raped and killed and youths blinded by use of pellet guns in Kashmir in a bid to silence the voices of freedom.

Mirwaiz demands rape cases from past three decades be reinvestigated

Rehmani asserted Kashmiri mass movement had entered into a decisive phase and it was now the moral responsibility of justice loving nations, including Pakistan, to approach world forums for a lasting solution of the issue.

The latest incident of Asifa has brought to fore the ugly truth of the present day Kashmir, he added.

He urged the UN Secretary General to play his role for the peaceful settlement of Kashmir dispute, and exert pressure on India to bring the responsible to justice.
COMMENTS
Comments are moderated and generally will be posted if they are on-topic and not abusive.
For more information, please see our Comments FAQ