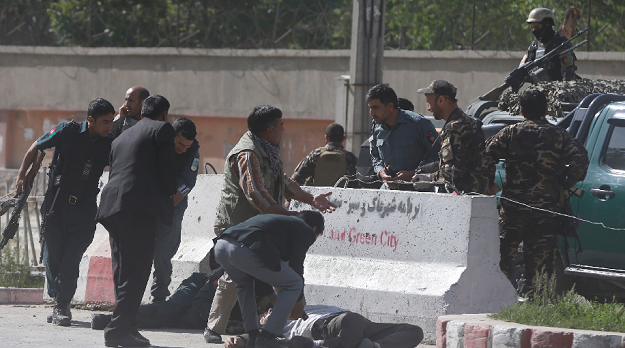 ---
KANDAHAR: A suicide bomber targeted a military convoy in Daman district of Afghanistan's southern Kandahar province on Monday killing 11 civilians and injuring over a dozen others, a local official said.

"The armed militants conducted a suicide attack against a military convoy, probably foreign military convoy in Abdullah village of Daman district at 10:30 am local time today, killing 11 children and injuring 16 others including nine children and two policemen," the official with provincial police Public Relation Office told Xinhua.

Taliban seize Afghan district centre, attack army base

The official declined to be identified, saying authorised officials would brief the media.

It was the third suicide bombing in Afghanistan on Monday. In another twin attacks in the capital Kabul, 25 people including five journalists were killed and 45 others injured.

At least 25, including journalists killed as twin suicide blasts rock Kabul

Earlier today, at least 25 people were killed, including Agence France-Presse chief photographer Shah Marai and five other journalists, when two suicide blasts ripped through Kabul on Monday, police and AFP have confirmed.

The attacks, claimed by the Islamic State group, are the latest deadly assaults on the Afghan capital and have spurred an outpouring of grief among journalists, many of whom took to Twitter to post tributes to their colleagues.