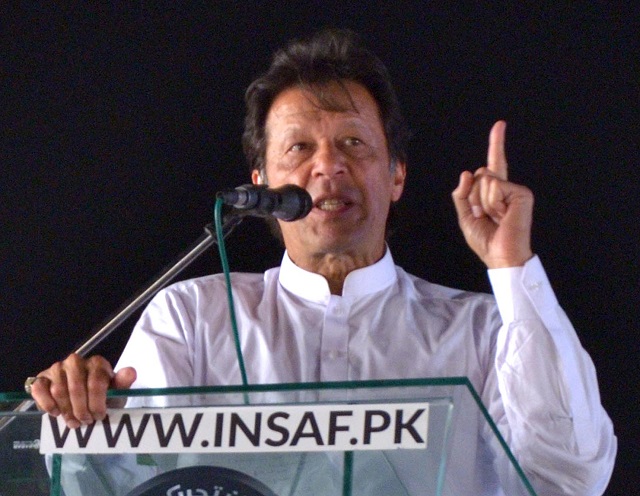 ---
LAHORE: [fbvideo link="https://www.facebook.com/etribune/videos/2305302869486726/"][/fbvideo]

Unveiling an 11-point agenda for a new Pakistan, Pakistan Tehreek-e-Insaf (PTI) Chairman Imran Khan called for establishing Pakistan in the image of the model state of Madina.

Speaking to a large public gathering at Minar-e-Pakistan on Sunday, Khan asserted that today's Pakistan did not match the dream of Allama Iqbal or the Quaid-i-Azam's vision.

The Quaid, he said, had dreamt of a country where all citizens, including all minorities, had equal rights. According to Imran Khan, the Quaid wanted to establish Pakistan based on the model state of Madina, which was the first social welfare state in the world.

Pakistan, Khan said, must choose between dishonour and dignity.

Citing the country's foreign debt, he said that it had touched an alarming level of Rs27,000 billion, of which half had been incurred over past five years of the PML-N government's tenure.

The country, he said, was heading towards a default because it lacked sufficient resources to repay its debts.




11-point agenda

Khan maintained that no country could ever excel without providing quality education to its children. All Asian Tigers invested heavily in the education sector. In contrast, Pakistan lagged behind Nigeria and had the highest number of out-of-school children.

He said that Punjab Chief Minister Shehbaz Sharif had spent Rs350 billion only in Lahore, which amounted to half of the province's budget.

"I ask Sharif who has been ruling Punjab for 10 years, how many international-level universities did he establish? No country can flourish in the world just by building roads and bridges. Nations develop by investing in their human capital," the PTI chief said.

He asserted that his party would invest maximum in education and human development.

Health sector reforms, he said, were second on PTI's priority list.

Citing the example of Shaukat Khanum Cancer Hospital, he said that he had set it up without government support, adding that the ruling party had not established such a hospital anywhere in the country.

He also announced to introduce a health insurance scheme for the poor across Pakistan based on the model of Sehat Sahulat Card in Khyber Pakhtunkhwa.

Khan said the next biggest challenge of Pakistan is revenue generation. An efficient and transparent tax regime is necessary to get rid of the country's heavy debts.

The country is hardly able to raise Rs4,000 billion in revenues. He said his government will introduce reforms in the taxation system, reduce tax rates and will ensure that public money is not wasted. He said that he will collect Rs8,000 in revenue by restoring public confidence.


An aerial view of the PTI jalsa at the Minar-e-Pakistan.

What these images can't capture in full is the jazba of people there. Humbling and moving and incredibly powerful: people's love for Imran Khan#PTIMinarePakistanJalsa pic.twitter.com/tleGpiH0jR

— Abdul Aleem Khan (@abdul_aleemkhan) April 29, 2018


Imran Khan to assert civilian authority if elected as PM

Citing the example of his decision to expel his own party's lawmakers for selling their votes in recent elections, Khan promised that he will curb corruption by strengthening the system of accountability and justice.

Khan said his government will encourage investment by creating an investor-friendly environment in the country.

Overseas Pakistanis possessed huge wealth abroad. They just need to be assured of a business-friendly environment.

He said that investment will also help create new jobs and increase domestic exports for which tax rates and energy tariffs will be reduced to make Pakistani products competitive in the international markets.

Khan promised youth of Pakistan better employment opportunities by offering incentives in tourism, housing and construction sectors.




PTI chief promised that his party will declare an agriculture emergency across the country.

He said that PTI will also introduce modern farming and train farmers, which will help increase crop yields and profits. Khan criticised sugar mills mafia for exploiting poor farmers and vowed that they would be dealt with sternly.

Chaudhry Nisar?: Imran says 'big wicket' to go down soon

The PTI chief resolved to strengthen the federation by giving due rights to provinces. Citing K-P's example, Khan said, he knew how small provinces were being exploited. He announced that the merger of Fata into K-P would be expedited. His party would also work for creating a separate administrative unit in southern Punjab.

Khan said that environment was among his party's top priorities. PTI, he said, would introduce project similar to the Billion Tree Tsunami all over Pakistan, planting more than 10 billion trees.




Efforts will also be made to clean rivers and water channels.

The PTI chief said that there was a dire need to depoliticise the police force. After coming into power, he said he would introduce reforms in police department so justice could be served quickly. Citing K-P police as a model, Khan said no case of extrajudicial killing had been reported in the province, while the situation in Punjab and Sindh was alarming.

Assuring women of quality education and inheritance rights, Khan maintained that his mother had been instrumental in shaping his personality, adding that his mother had moulded him into a truthful and patriotic person.
COMMENTS (20)
Comments are moderated and generally will be posted if they are on-topic and not abusive.
For more information, please see our Comments FAQ