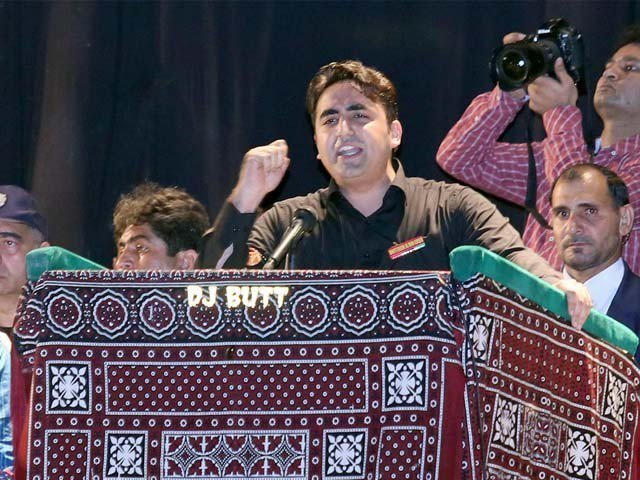 ---
KARACHI: [fbvideo link="https://www.facebook.com/etribune/videos/2305040906179589/"][/fbvideo]

Pakistan Peoples Party (PPP) Chairman Bilawal Bhutto Zardari on Sunday vowed to liberate the citizens of Karachi from the clutches of the Muttahida Qaumi Movement (MQM), saying that the party support in the city had been stopped by force during its rule.

Addressing a rally in the city's Liaquatabad neighbourhood, a traditional MQM stronghold, the PPP chairman said his party had freed the people of the port city from the man running the city from London.

According to him, the PPP would liberate the residents from the clutches of every faction of Mustaqil Qaumi Museebat (permanent national calamity), referring to MQM and its founder Altaf Hussain.

"This is the same locality which was once known for hatred, fear and terror, but today I am glad to stand here and chant Jiye Bhutto slogans and for this I salute the Karachiites and especially the people of Liaquatabad," he said to his supporters in a jam-packed Tanki Ground.

The PPP chairman blamed the MQM for lack of cleanliness, and water and power shortages in the city.

"The MQM leaders don't want to see the city clean because their politics is based on these issues," he said, adding that despite having the mandate of the people of Karachi the "mayor is nowhere to be seen".

"Let's do politics of federation and not that of Karachi," he asked the people. "Together we will turn Karachi into the city of lights again and return it to its past glory."

Criticising Pakistan Tehreek-e-Insaf (PTI) chief, Bilawal said Imran Khan and Altaf Hussain were two sides of the same coin as one believed in sit-ins while the other in strikes.

"Imran had called residents of Karachi 'zinda lash' (living dead) … now he has announced to contest elections from this city," he added.

PPP gears up for massive show in MQM stronghold

Advising deposed prime minister Nawaz Sharif, the PPP chief said that no one could earn respect by chanting 'sanctity of vote'.

"He [Nawaz] will only get respect by respecting labourers, women, minorities, Constitution, parliament and the masses and not by demanding it," he maintained.

The PPP displayed its might in the MQM's stronghold almost 44 years after its last grand political show in Liaquatabad. Party founder Zulfikar Ali Bhutto had addressed a massive gathering in the same area in 1974 when he visited the place to inaugurate a supermarket.

Forty-four years later, Bhutto's grandson Bilawal launched an election campaign in the area amid thousands of supporters.

After Bhutto's death and MQM's emergence as a powerhouse in the area, the PPP and other political parties were restricted to corner meetings and small gatherings but now the tables had turned as political parties were taking advantage of the multiple rifts within the MQM.

Bilawal announced setting up a Qawwali and Sufi Institute in the name of slain Amjad Sabri. "Karachi will not tolerate being referred to as the city of blood and terror anymore," he added.

Taking over the podium, former Sindh chief minister Qaim Ali Shah said, "He [Imran Khan] should revisit his decision of contesting elections since the people of Karachi are politically aware and will not vote for him."

On the occasion, Sindh PPP President Nisar Khuhro said, "People of Karachi should think twice before voting for those who abandoned them in difficult times."

Former Senate chairman Raza Rabbani criticised the incumbent government for announcing "a cruel budget which is against the masses".

He said, "The current government is of those who have big businesses. Change can only come when the lives of the poor and labourers change."

PPP leader Shehla Raza said, "We want Karachi to be that of Jaun Elia and Rais Amrohvi and a city that produced many such poets and writers."

PPP's Prof ND Khan said, "PPP and Liaqatabad have a history of 50 years, but unfortunately the relation between them had been disconnected."

Opposition Leader in Senate Sherry Rehman said, "This area saw a time when Lalu Khait's name was changed to Liaqatabad by the PPP's founder."

People's take on Bilawal

Muskaan, a 12-year-old, who hails from Kundri, Mirpurkhas said she came here because she loved Bilawal Bhutto. "I came to the jalsa to look at him [Bilawal] from afar."

Many women said they came in search for help.

Rehana said, "Despite the fact that nobody hears or provides us anything, we are still here because we are hopeful that he will be like his grandfather."

Magician Qasim Jan, a frequent jalsa participant, said "Due to my trade, I can spot the sleight of hand and that's why I can say Bilawal is the real deal."

Nadia said, "Love drew me here."

She said that since childhood she had been collecting photographs of Zulfikar Ali Bhutto, Benazir Bhutto and Bilawal Bhutto.

Rahila, 44, a former school teacher, said that she came here to submit her application for help.

"I think he will help me. He seems different from others," she said.