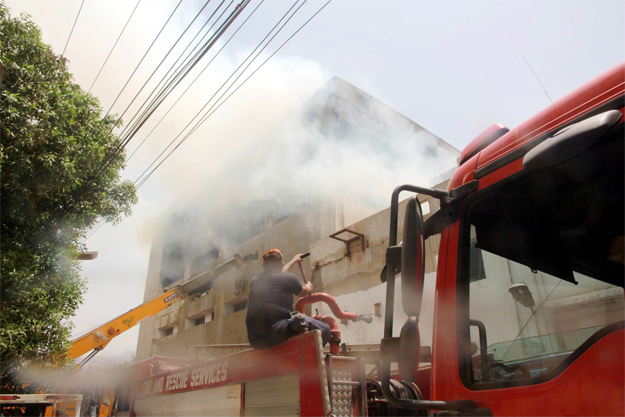 ---
KARACHI: Despite the passage of at least 24 hours, firefighters were not able to completely douse a third degree fire that broke out at a textile mill in an industrial area of Karachi.

The blaze erupted at around 8pm on Thursday at the Lucky Textile Mills located near Lucky One Mall on Rashid Minhas Road within the limits of the Federal B Industrial Area police.

Fire tenders could not extinguish the flames despite the passage of a whole day. Fire brigade officials also said they could not give a time frame in which the fire would be completely doused.

"It was a third degree fire," said Tehseen Siddiqui, chief fire officer of the Karachi Metropolitan Corporation. "We were able to control the blaze through hectic efforts that continued for hours and the mill's administration also called firefighters from a private firm who broke the wall to douse the fire. However, it unfortunately provided oxygen to the fire and the fire again flared up," he added.

Plaza fire claims five lives

Rescue teams and at least 15 fire tenders of the fire brigade, along with three fire tenders of the Pakistan Navy participated in the extinguishing work. A contingent of law enforcers was also present at the site.

It is suspected that the fire has destroyed goods worth millions of rupees. However, no loss of life has been reported in the incident as there was no worker at the industrial unit when the fire broke out.

No human loss was reported in the fire, said Federal B Industrial Area SHO Sajid Javed. He added that the actual cause of the fire had yet to be ascertained.

According to SHO Javed, initial inquiry suggested that the fire was not a result of a criminal activity. The authorities concerned are currently focusing on extinguishing the blaze, he said.

Following the fire, power supply to the residential area that falls in the industrial area was suspended due to security reasons. Commenting on the problem, K-Electric officials said they would not restore power supply until the fire brigade completed the extinguishing work and asked them to restore the electricity.

Wrath of fire: Huge blaze destroys makeshift furniture market in Johar Town

Irked due to living without electricity since Thursday night, residents of the area demanded that their power supply from the industrial unit be disconnected and, instead, be connected from elsewhere to avoid such incidents in the future.