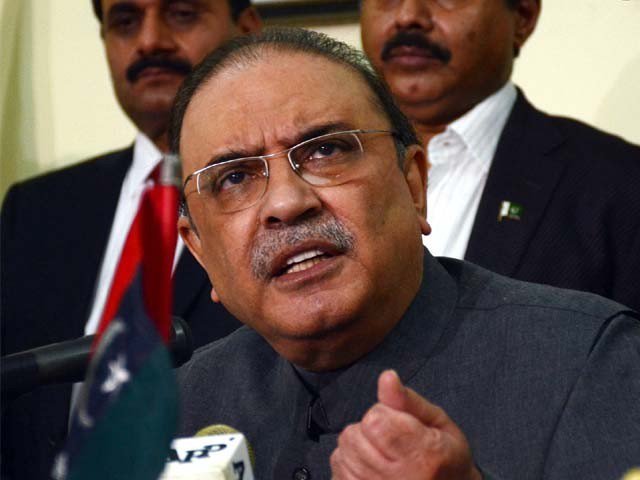 ---
Co-Chairman of the Pakistan Peoples Party (PPP) and former president Asif Ali Zardari, predicting the outcome of upcoming polls, said any government formed without the involvement of his party will not be able to sustain itself.

Zardari further said no government in the centre can be formed without the PPP being a part of it.

Top court issues notices to Musharraf, Zardari in NRO case

The former president added that he will not let Pakistan Muslim League-Nawaz (PML-N) form a government in the upcoming polls and referred to the recent "cornering" of the ruling party in the Senate polls.

A delegation headed by PPP Punjab President Qamar Zaman Kaira met with PPP parliamentarians and Zardari. Usman Malik, Asim Bhatti, Rana Irfan Ahmed Khan attended the meeting.

The co-chairman further added that during the 2013 elections, PPP's hands were tied and during the last general elections, PML-N was involved in corrupt practices, but now the situation is different. "PML-N will now realise the hard facts of life," he added.

Shedding light on the party's plans for mobilising its support base, Zardari said that he, along with Bilawal Bhutto Zardari, will visit districts in Punjab. "The farmers and government employees still remember the relief provided by the PPP." Criticising the PML-N's governance, Zardari added that the ruling party failed to provide relief to the people.

PTI conveyed 'orders' to vote for Balochistan candidate in Senate polls, reveals JI chief

A coalition formed by the PPP, Pakistan Tehreek-e-Insaf (PTI) and independent candidates from Balochistan managed to bag the top slots in Senate elections. All three parties involved nominated Sadiq Sanjrani as the Senate chairman, and after a full-fledged face-off with the PML-N, the coalition walked away with the top slots.