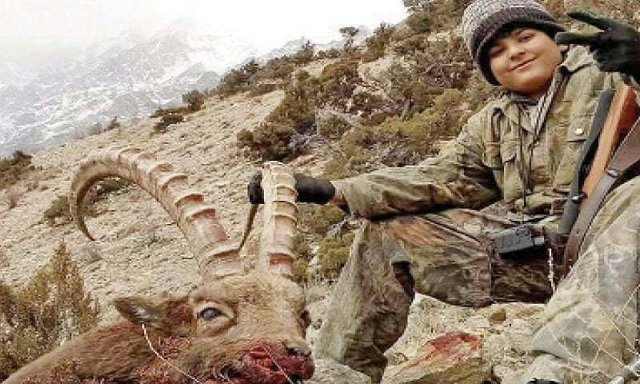 ---
GILGIT: A teenage boy's happiness over hunting an ibex, which was initially considered an achievement, has now soured after wildlife authorities came down hard on his family in Gilgit-Baltistan (G-B).

Imam Haroon, 13, a resident of the federal capital, hunted a Himalayan ibex back in February in upper Hunza, heralding him to become the youngest hunter in G-B's history.

Haroon, however, was not the original licence holder for the hunt with documents showing it was actually his father whose name is Haroon Nazir who had been authorised to do so.

The achievement was considered a matter of pride for the family as he was the youngest to achieve the feat in Gojal, which is at an altitude of 12,000 feet and amid harsh weather.

But their happiness was short-lived as only a week later the conservator of the Wildlife department was suspended and made to face an inquiry for 'violating the rules'.

The wildlife department initially defended the hunt on social media but refrained from passing any comment after the official was sidelined out of the blue.

As it later transpired Nazir had chosen to send his son for the hunt as he was not feeling well.

The hunting permit given to Nazir was not for the Gojal where his son went for the hunt. The licence was for the Hushey area in Ghanche district of Baltistan.

Trophy hunting quota for new season announced

While the case against conservator Yaqoob Ali is underway, the teenager's mother has decided to break her silence.

Speaking to journalists in Gilgit this week, she said her son's achievement had been overshadowed by other developments.
"Unfortunately the opportunity to project G-B to the outside world was lost," she told reporters on April 18 referring to suspension of the conservator, Yaqoob Ali, who deals with trophy hunting programme in G-B.

She lamented the 'negative attitudes' in society resulting in the talent of youth going to waste as in the case of her son.

"We spent over Rs1.5 million just for this visit but our work wasn't acknowledged… we are hurt and will think twice before visiting again."

The teenager's mother said with the amount of money they spent in G-B for the trip, they could have easily visited South Africa to fulfil her son's hobby.

She urged authorities to review their policies if they really wanted to promote G-B and earn revenue as a result.

She lamented the lack of cooperation by security officials at checkposts where she and other family members were made to wait for hours in the name of clearance and registration.

Back on September 21 of last year, the wildlife department auctioned permits to hunt 113 rare species under the trophy hunting programme 2017-18, with the hunting of endangered Astore Markhor fetching the highest licence fee of $100,000 in the history of trophy hunting.