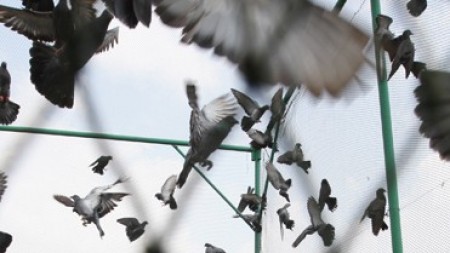 ---
A pigeon is being kept under armed guard by Indian police on charge of espionage for Pakistan.

The pigeon was found by a local resident in the Indian state of Punjab and was taken to a police station 40 kilometers (25 miles) from Amritsar, media reported on Friday.

The pigeon had a ring around its foot, a phone number from Pakistan and an address stamped on its body in red ink.

Police officer Ramdas Jagjit Singh Chahal told the Press Trust of India (PTI) that they suspected the pigeon may have landed on Indian soil from Pakistan with a message, although no traces of a note were found.

Officials directed the police not to allow anyone to visit the pigeon, which the police say believe may be on a "special mission of spying".

The bird has been medically examined and was being kept in an air-conditioned room under police guard. Senior officers have asked to be kept updated on the situation three times a day, PTI said.

Chahal said local pigeon fanciers in the sensitive border area had told police that pigeons from Pakistan were easily identifiable as they look different from Indian ones, according to the Indian Express newspaper.
COMMENTS (36)
Comments are moderated and generally will be posted if they are on-topic and not abusive.
For more information, please see our Comments FAQ