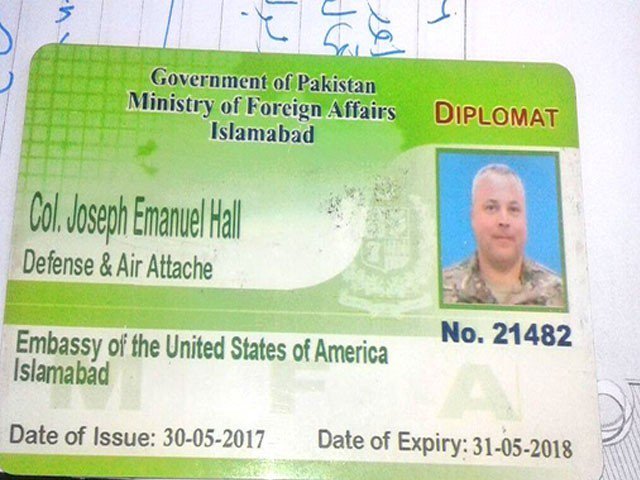 ---
The Ministry of Foreign Ministry (Mofa) on Thursday decided not to put US diplomat Colonel Joseph Emanuel Hall's name on the Exit Control List (ECL), Express News reported.

Earlier this month, the defence and air attaché at the US Embassy killed a motorcyclist as he jumped a traffic signal at the intersection of Margalla Road and 7th Avenue  in Islamabad.

According to details, a meeting to weigh the situation after the hit and run incident was held. Authorities reviewed the matter and decided not to include the diplomat's name on the no-fly list.

[/fbvideo]

Sources said that US diplomats are exempt under the Vienna Convention, while Pakistani envoys have also used this exemption in Iran and New Delhi over cases of similar nature, hence, the international treaty bounds Islamabad to also provide such an exemption in this incident as well.

The deceased was identified as Ateeq Baig, 22. He hailed from Talhar village in the Margalla Hills while his father works as a security guard at a govt school in Saidpur village.


COMMENTS (2)
Comments are moderated and generally will be posted if they are on-topic and not abusive.
For more information, please see our Comments FAQ