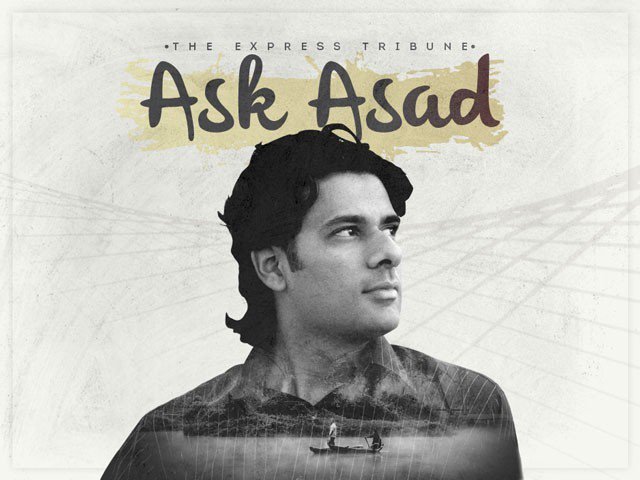 ---
Dear Asad,

I am a 31 years old woman who is seeing a guy for marriage purposes. Seeing him over here means that we have only met twice. He is 37 years old and is a friend of a friend. He is an intelligent person, who is divorced and has a daughter.

The reason I have only met him twice is because he is always very busy with his work. His job takes up most of his time and he is very devoted to it. He gives his work much more priority and time than the other aspects or issues of his life.

Because he doesn't have time, we aren't able to communicate much. Thus there is a communication gap between us. I want to break this communication gap and initiate contact with him but I don't want to come across as clingy or desperate. Neither do I want to show him that I feel frustrated that nothing is moving forward between us in the direction of marriage.

Ask Asad: Is it okay to marry a man who is 19 years older than me and already married with kids?

The two times that we met he was very respectful and made me feel quite special. I liked that. Also whenever he talks to our mutual friend, he inquires about me. This makes me feel that perhaps he is serious about marriage but so far nothing has been said or done about it.

What do you suggest? Shall I take initiative, contact him and ask him to meet? Or shall I wait for him to approach me when he has time? What should I do?

Unsure Woman



Dear Unsure Woman,

I don't believe at all that you will come across as clingy, frustrated or desperate if you ask him for his time. If you are a self-respecting person then that's the least you deserve.

I very strongly believe that you should break the barrier and talk to him more and try to meet him regularly, if possible. That is the least you deserve from him if you both are thinking of marrying each other. He may be very busy because of his job but a job isn't (and can never be more important) than a relationship. If he is serious about you then he should take out time for you. That's the way it works. Whatever we hold near and dear, we take out time for it, no matter how busy we might be with the necessities of life.

When you talk to him tell him what your needs and expectations are. You can also suggest that you both go over your schedules and see if you could come up with days or activities that you would regularly like to make time to be together.

Ask Asad: I love a girl for the past eight years, but want to get settled before approaching her. Should I wait more?

Note: This doesn't mean that you should only spend time together on those days, or that you are even committed to always spending time together according to the schedule, but it does give you a nice foundation with which to work. This will help you establish a foundation, but also help you have the conversation about how much time you feel each of you should make for the other.
Tip 1: You can show him what your expectations are for making time for each other, but you would also do well to tell him exactly how you feel and what you expect. Don't attack him or point fingers. Cultivate an open dialogue and tell him how you're feeling.

Tip 2: Talk with him about his actions. The saying that actions speak louder than words is never truer than in a relationship. He may say that he wants to spend time with you but then something tends to come up and you are left feeling neglected. These actions show that he's not prioritising you appropriately.

His asking his friend about you whenever they talk is not enough. That doesn't involve too much effort neither does it prove that you hold a special place in his life or heart. It's good that he respects you and makes you feel special (this shows that he's a decent guy) but sadly this happens quite rarely as you two have met only twice. For you both to decide whether you want to be together or not, it's important that you spend quality time together.

Define your expectations! What do you want and expect out of a relationship? Ask yourself what sort of expectations you have about making time for one another. If your vision of how much time partners should make for one another differs substantially from his, consider what sort of compromise is workable for you.

Evaluate him honestly! He may be a great guy, but if he can't make the time for you that you want or need, it may be is the time to face that reality – this might mean breaking up. He might not be emotionally ready or willing to be in the sort of relationship that you want. Looking at him honestly for who he is will only help you in the long run.

Ask Asad: I fell for a man from a different sect - how do I move on?

Note: You might realise that he's just not ready to spend as much time with you as you need or be able to be in a committed, adult relationship. That's not a reflection on him as a person, but shows that you two are at different points in your lives.

If you feel that he isn't making enough time for you, don't rationalise or justify the behaviour. These are your feelings, after all. Don't settle for behaviour that isn't meeting your needs. His reasons for not making as much time as you would like in the relationship (work, job, family obligations, etc.) may be perfectly valid, but that doesn't mean that you have to settle for them. Prioritise your needs.

You should make it very clear to him that in order for this relationship to develop further you need more of his time – through all means, meeting, talking over the phone, exchanging msgs, etc. You should not wait for him to see when he has time for you to meet/talk to you. You should demand it. If he can give his time on a regular basis and the communication gap disappears, then good. Otherwise walk away from this relationship. If not, then you will be living a lonely life even after marrying him as he will be busy devoting his time what is most important to him – his job. End the relationship and look for someone who wants to spend more time with you.

Just remember that even if you two get hitched, his job will still be there. He will still be spending a lot of time on his work and his focus and priority still might be his work. Are you ready for that? Are you willing to compromise that much? Ask yourself these questions before trying to enter into a formal relationship with him.

If he is 37 years old and divorced and still has not understood the value of relationships and the time and effort they require then I believe you are better off without him.

Ask Asad: My married cousins look down upon me because I am single at 30. Is it my fault?

Another point to consider is that perhaps he is not that interested in you and is letting his job demands be the excuse for not regularly staying in touch with you. Some people are like that. Instead of openly communicating their decisions they hope that the other person takes the hint and backs off.

Take care!

Asad



Asad is a counsellor, life coach, inspirational speaker and a personal-development expert. He advises on social, personal and emotional issues. You can send him your questions for this weekly column at [email protected] with "Ask Asad" mentioned in the subject line and provide as many details as possible.

Note: The opinions expressed in this article are those of the author and do not necessarily reflect the views of The Express Tribune.






COMMENTS
Comments are moderated and generally will be posted if they are on-topic and not abusive.
For more information, please see our Comments FAQ