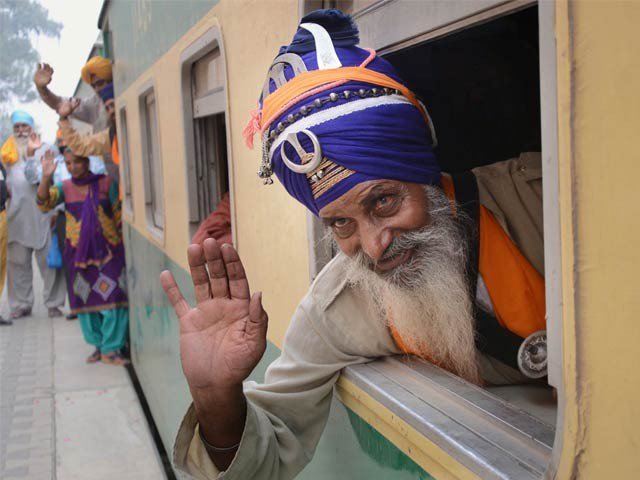 ---
LAHORE: The Sikh community participating in the Besakhi Mela and Khalsa's birthday has refused to meet Indian ambassadors in Pakistan.

Staff of the Indian High Commission has also been prevented from entering Nankana Saheb. The measure has been taken to protest against a Bollywood film misrepresenting the biographical accounts of Guru Nanak.

Pakistan denies inciting Sikhs on 'Khalistan' issue

In an exclusive interview with Express News, a leader of the recently arrived Sikh delegation, Sardar Gurmit Singh, said the controversial film had hurt the sentiments of the entire community for which the protest was organised. "The Bandhak community has also joined the protest at Shromni Gurdwara," he said, revealing that the producer of the controversial film has been declared an infidel.

Singh also slammed India for running a mala fide campaign against Pakistan.

He said the negative propaganda from across the border had spread fear among Sikhs visiting the country. "I personally contacted my Sikh comrades to clarify the situation," Singh remarked. He maintained that the Indian media has been trying hard to malign the image of Pakistan by misrepresenting our protest. "The file footage shown by Indian media portrays us as unsafe in Pakistan which is against the facts," he said.

Gormit Singh revealed that the Sikh community plainly denied the entry of two Indian diplomats who tried to enter Nankana Saheb. "The Indian Sikhs refused to meet them," he added.

Special coin to be issued honouring Guru Nanak

"Indian diplomats frequently try to spread fear among visiting Sikhs by spewing venom against Pakistan," said Pakistan Sikh Gurdwara Committee Secretary Gopal Sindh Chawla.

At least 1,700 members of the Sikh community are on a tour to attend religious festivities in Pakistan. The Sikh visitors will attend festivities in Sacha Soda Gurdwara in Farooqabad and reach Lahore for further rituals on April 18 (today).