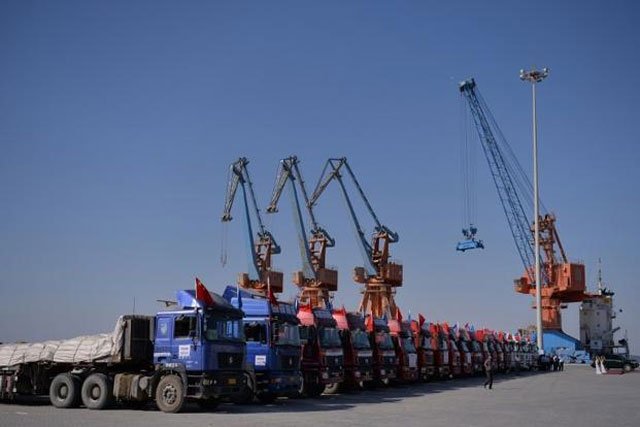 ---
Gilgit-Baltistan is home to over 50 mountain peaks above 7,000 metres and three of the world's largest glaciers that are also the greatest pure water storage assets for Pakistan. According to estimates by G-B's Water and Power Department, around 45,000MW of hydropower can be produced through utilisation of these water resources. Yet due to the altitudinal factors, G-B has a mountain ecosystem vulnerable to climate change and one likely to be affected by the industrial and business developments in future.

G-B has been in the spotlight following CPEC's initiation. A project of scale as huge as CPEC is pivotal to the economic and social development of the populace of the region, generating more of income avenues, investment options and opportunities of capital utilisation. While simultaneously providing more prospects for cultural exchange, interaction and diversification. Nevertheless it has an unavoidable cost attached to it.

Massive industrial development along the routes starting from Kashgar in Xinjiang, China, to Abbottabad in K-P, Pakistan, will damage the ecological system and the scenic beauty of the region. The biggest threat will be of the traffic emissions moving through this route.

With CPEC, demand for petroleum products set to grow

According to a research study, a single 22-wheeler truck vehicle produces 931g of carbon dioxide per km. From Khunjarab Pass to the Bhasha Dam site, a 427km-long northern and southern boundaries of G-B, stretching on the Karakoram Highway, a single truck will emit 396.6kgs of carbon dioxide. CO2 emission will be heavier, 2913.1kgs, in one trip from Kashgar to Gwadar. With current capacity of KKH, for less than 1,000 trucks per day from China to Pakistan, with the expected maturity of road routes, by around 2035, it is projected that about 12,000 trucks will enter and leave Pakistan, making a total of 24,000 trucks running through the route per day.

Currently, about 2,000 trucks running on both sides emit 793.2 tons in and a total of 5,826.2 tons of CO2 from cargo vehicles per day. In future 9,508.8 tons of CO2 will be emitted per day in G-B territory and a total of 69,914.4 tons of CO2 will be emitted into the atmosphere along the entire route in a single day.

In general, CO2 is a heavy gas that does not move upwards into the atmosphere and with high mountains in surroundings remains trapped in between, this will be apocalyptic to the region's ecosystem. The high volume of the greenhouse CO2 trapped in mountains will significantly increase atmospheric temperature causing a heavy melting of glaciers. For a water-stressed country like Pakistan, this will initially cause floods and then alarmingly severe water shortage.

High concentration of pollutants in atmosphere will drastically deteriorate the air quality in the area and substantially increase the level of air pollution.

Scientific research and advanced technologies provide solutions to threats like global warming and environmental degradation. One such solution to have eco-friendly energy sources for transportation is hydrogen. Hydrogen, an energy carrier, can be used as fuel in vehicles, as most beneficially it emits water vapour but no harmful gases. Moreover, due to greater energy density than conventional fossil fuels efficiency of hydrogen-fuelled vehicles is significantly higher than that of conventional vehicles.

Key to CPEC success

Germany is currently leading in hydrogen technology and plans to make hydrogen accessible in all its big cities by 2020. In G-B's case, hydrogen can be produced here by local hydropower resources with a zero carbon footprint. the G-B government needs to be proactive in decision-making, planning and strategising for future while collaborating with market leaders in this technology. As CPEC infrastructure is developed in stages and will take at least 10 to 15 years to complete and run on its optimal targets, a proactive initiative in this regard is vital to protect the environment.

As China is investing in development of environmentally-sustainable technologies, agreements with its government can be made to make CPEC an emission-free route.

Published in The Express Tribune, April 18th, 2018.

Like Opinion & Editorial on Facebook, follow @ETOpEd on Twitter to receive all updates on all our daily pieces.
COMMENTS (3)
Comments are moderated and generally will be posted if they are on-topic and not abusive.
For more information, please see our Comments FAQ