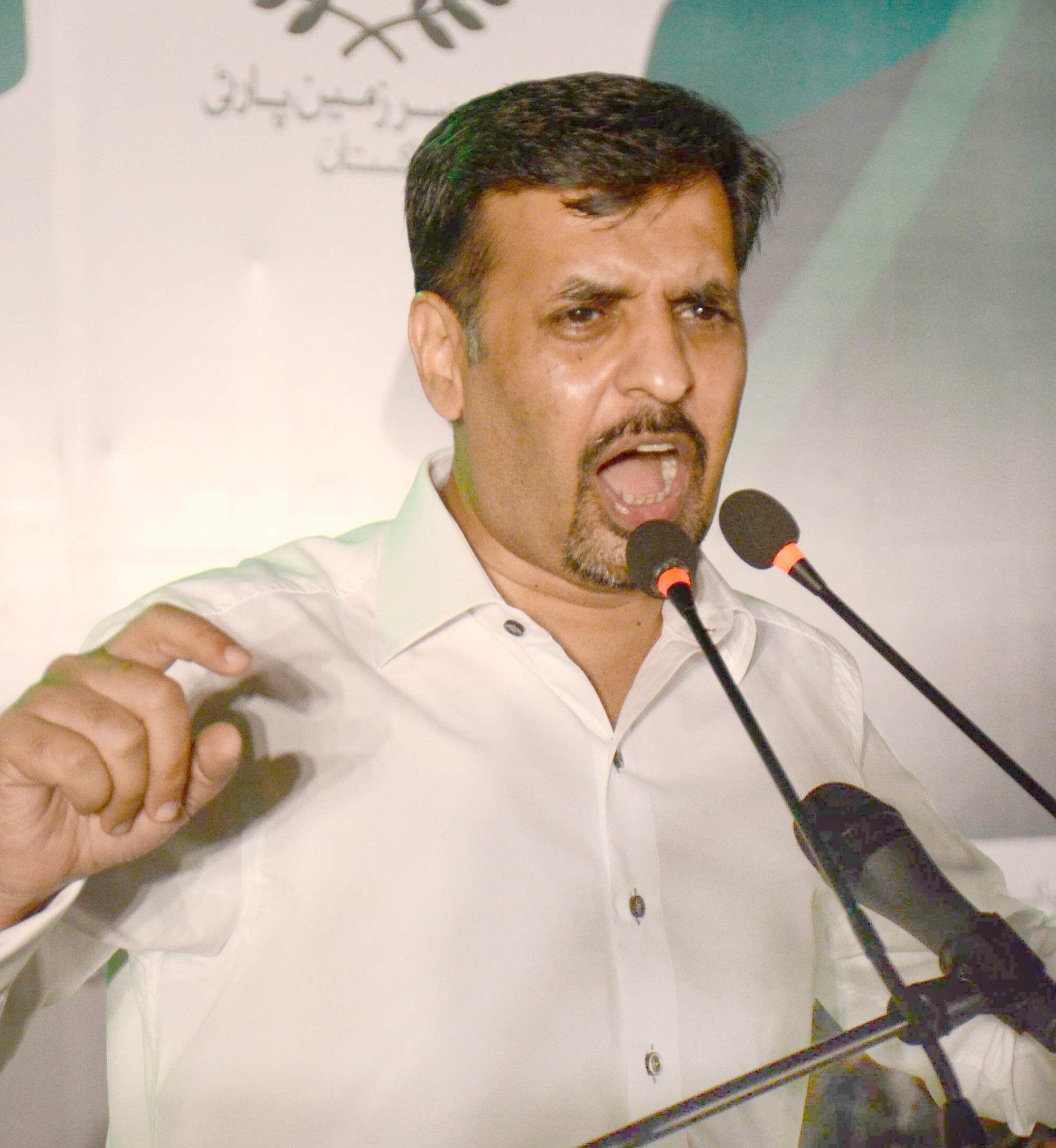 ---
KARACHI: A senior member of Muttahida Quami Movement (MQM) - Pakistan's Rabita Committee, Shabbir Ahmed Qaimkhani, along with several other MQM-Pakistan supporters and activists, announced that they would be joining the Pak Sarzameen Party (PSP) at a press conference on Saturday.

He was flanked by PSP Chairperson Mustafa Kamal, who warned that if Karachi is ruined then the entire country will follow suit because Karachi is Pakistan's economic hub.

Kamal stated that these people joining the party was not to satisfy any personal interests but was aimed at fighting together with a purpose to solve the problems of Pakistan. He blasted the chief minister, saying that he has rescued himself from the load-shedding issue by merely writing two letters to the prime minister when he should have called a meeting to solve the problem. He asked the Chief Justice of Pakistan to take suo motu notice of the load-shedding in Karachi, which he said lasted to 18 hours daily.

Another blow to MQM-P as MPA Anwar Raza jumps ship

Kamal welcomed Qaimkhani, along with more than 100 of his comrades, saying he has struggled for 35 years. He also extended an invitation to Farooq Sattar and Amir Khan to come and work for the betterment of all ethnicities, including Muhajirs. Dispelling rumours about the votebank of the Muhajir community being divided, he claimed that even the people who earlier did not vote for MQM will vote for the PSP.

Qaimkhani, while addressing the press conference, said that critics may ask why their conscience has now woken up. "I would ask them [our opponents] to have a big heart and forgive all," he said, revealing that he found PSP to be the opposite of what he had heard.

Earlier, during the party's membership drive in Ayesha Manzil on Friday, Kamal said that MQM's politics of hatred have destroyed an entire generation. "We have to change the lives of Karachiites. We will have to rectify our actions if we want to end electricity and gas load-shedding in the city," he said.

"The city mayor runs the party in the day and parties at night. This is not how service is dispensed," he said. Naheed Begum, Naila Muneer, Dr Fauzia Hameed, Saleem Bandhani, Anwar Raza and Kamran Farooqi and others also spoke at the gathering.

PSP emerges victorious amid MQM's internal struggles

"I pay tribute to parliamentarians for joining PSP. We have been working for the past two years and did not open this front to create assets and marriage halls. We've come forward to pull Karachiites out of fire and blood," said Kamal, adding that the lives of Karachiites needed to be changed.

With recurrent load-shedding and no potable water available, people in the city are disturbed, he said, adding that there was no one to pick up garbage and neither were adequate transport facilities available.

"We've spent Rs300 billion until now. No one can accuse us of corruption," he said, adding that there were no water issues during his tenure as mayor.

"People used to go out at night to see the projects I had initiated," Kamal said, adding that MQM-Pakistan remained in power for nine years on the Muhajir card, while for 14 years their governor made money and is now sitting in Dubai.

MQM-P lawmaker Syed Waseem Hussain jumps ship, joins PSP

"Even today, people say that there's romance with the kite and MQM-Pakistan. But go and inquire from the families of missing persons if they share the same romance with MQM-Pakistan," he said.

"I've rebelled against those who rebelled against my country," he said, adding that they are the children of the founders of Pakistan and can neither rebel against the country nor can tolerate anyone rebelling against it.

Karachiites do not have any option except for PSP, he said, adding that the party will hopefully win in the upcoming elections.

"I am proud of being a part of the PSP," said Naila Latif, adding that she could never imagine she would leave MQM-Pakistan. Dr Hameed said that there was only one aim behind joining PSP, which was self-rectification. Bandhani said that they are now able to understand what they witnessed for the past 30 years. MQM's leader has pushed the entire Muhajir nation into a quagmire. Raza said he was relaxed after joining PSP. The 2018 elections will prove that the PSP is a political force, he said.
COMMENTS
Comments are moderated and generally will be posted if they are on-topic and not abusive.
For more information, please see our Comments FAQ