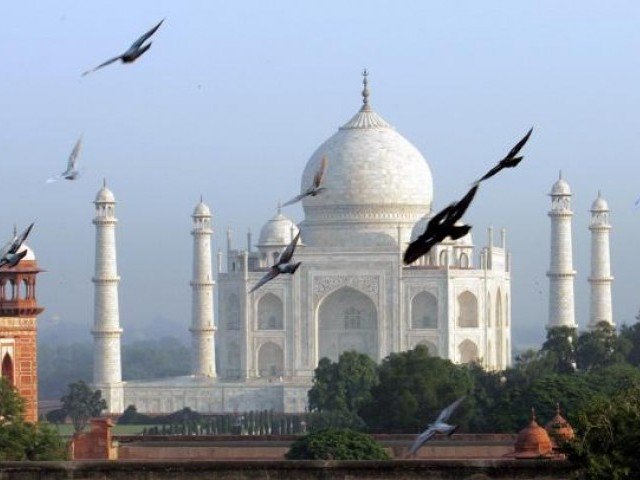 ---
A minaret at the entrance of the Taj Mahal collapsed as heavy rain and high winds lashed Agra Wednesday night.

The 12-feet metal pillar at the entry gate known as Darwaza-e-Rauza, crashed as wind speed during the thunderstorm crossed 100km per hour. The minaret and dome broke into several pieces when the pillar fell down, NDTV reported.

An appeal was filed in the Supreme Court of India by the Archeological Society of India (ASI) for sorting out the ownership of Taj Mahal.

Visits to Taj Mahal restricted to three hours per person

The SC asked the Uttar Pradesh Sunni Waqf Board to show Mughal emperor Shah Jahan's signed documents to prove it owns the Taj Mahal.

"Who in India will believe that it the Taj belongs to the Waqf board," asked the Bench, comprising Justices AM Khanwilkar and DY Chandrachud.


#heavyrain causes pillar inside #TajMahal premises to collapse, no casualties reported

Read @ANI Story | https://t.co/lvHKZBH317 pic.twitter.com/hn0rjVHHBP

— ANI Digital (@ani_digital) April 11, 2018


ASI told the SC that, "Taj Mahal was taken over by the British and since Independence, this society has been maintaining the Taj Mahal."

The UP government sought four weeks from the top court for preparing a document which would help protect and preserve the 17th century mausoleum.

No end to eyesores at Taj Mahal as repair work drags on

"Taj has been losing its sheen and the structure is suffering due to increased pollution levels in Agra," the ASI said after conducting a study. "Experts said the abrasive nature of the particulate matter in the air is damaging the surfaces of the Taj."

This article originally appeared on NDTV