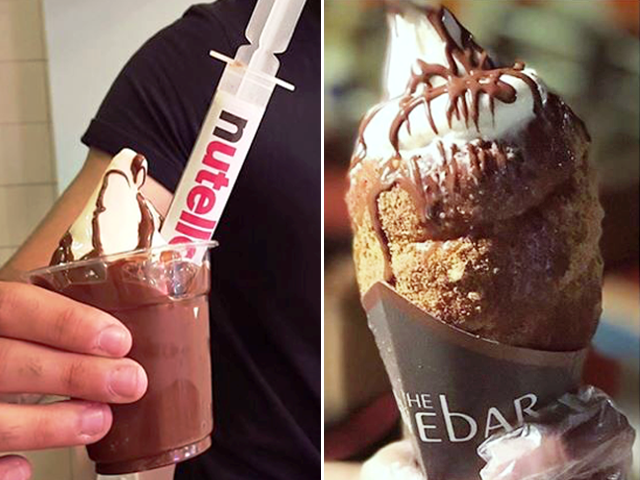 ---
KARACHI: If you're a 'Carbdashian' like me and always on the quest for extremely rich and delicious and highly Instagram-able desserts, The Crave Bar is for you!

This new dessert shop just popped up in Karachi's Bukhari Commercial a little over a week ago and boy, are they serving some truly unique items. In fact, most of them haven't been introduced here in Pakistan before!

To help you out, here are my picks for the best items on The Crave Bar's menu.

The Funnel Cake




Super fresh and cooked to perfection, the funnel cake is The Crave Bar's claim to fame. The cake is tender on the inside and just the right amount of crunchy on the edges, served with vanilla and ample strawberry sauce to top it all off. The last time I ate a funnel cake was in the US over a year and a half ago but suffice it to say that my first experience in Pakistan has been a very pleasant one indeed.

Bieber Tales




These little treats are a delectable combination of pastry and Nutella. The base us warm and crusty and soft – all at the same time! But bear in mind that Bieber Tales are more filling than they might look and can easily be shared between two.

Doughnut Cone




Call it a lack of general knowledge but I didn't know doughnut ice-cream cones are actually a thing until I went to The Crave Bar last week. Anyway, by the time I was served it, I was already much too full.

But that didn't stop me from devouring half of it. And let me tell you, once you have the doughnut cone, you probably won't want to go back to the old waffle cone ever again…

Nutella Sundae




So I didn't try this one myself but a friend who had tagged along with me did and she loved it! Also, the Nutella syringe inserted in the sundae adds a super cool touch. Ten point for creativity!


Verdict: The Crave Bar will surely have you…well, craving for more.

Star: 4.5 out of 5

Have something to add to the story? Share it in the comments below.