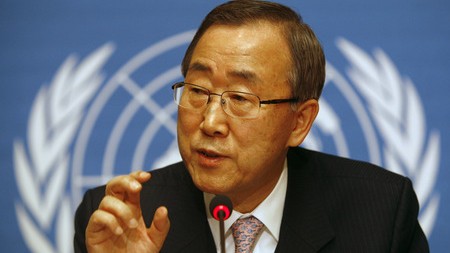 ---
RIO DE JANEIRO: UN chief Ban Ki-moon a lack of trust toward Iran underpins the showdown in the UN Security Council  over its controversial nuclear program.

"This crisis, it seems to me that there is a serious lack of optimism and  trust towards Iran in its core," he told the start of a UN conference on the Alliance of Civilizations being held in Rio de Janeiro.

"Iran has said it would continue the process to enrich uranium at 20 per cent, and that has caused serious concern among the international community," he said.

The United States and its European allies believe Iran is trying to develop nuclear weapons under the cover of its atomic energy program. Tehran denies that.

"I think we all agree that the Iranian nuclear issue has become one of the critical sources of concern and tension within the international community," Ban said, without referring to a US draft resolution before the UN Security Council calling for further sanctions against Iran.

Although Tehran agreed to that May 17 deal brokered by Brazilian President Luiz Inacio Lula da Silva and Turkish Prime Minister Recep Tayyip Erdogan, Washington has dismissed it as insufficient because of Tehran's insistence to keep enriching the rest of its stock.

"There are different opinions about the approaches and possibilities concerning this issue," he said, adding that the Brazil-Turkey deal "could be a positive step" towards a negotiated solution. Lula's administration is furious that its deal with Iran has been effectively shelved, and is arguing that it should be taken into consideration before sanctions are decided. The daily Folha de Sao Paulo reported Thursday that US President Barack Obama had even sent a letter to Lula three weeks ago, before the deal was struck, suggesting negotiation points with Tehran.

Obama said that while he "would keep a door open to a compromise with Iran," he also warned he would simultaneously push forward with the UN resolution for sanctions against Tehran, the newspaper said.

Although the Brazilian government has refused to confirm the authenticity of the apparently leaked letter, Lula has insisted that the Tehran deal largely addressed the demands made by the United States months ago.

Published in the Express Tribune, May 28th, 2010.
COMMENTS
Comments are moderated and generally will be posted if they are on-topic and not abusive.
For more information, please see our Comments FAQ