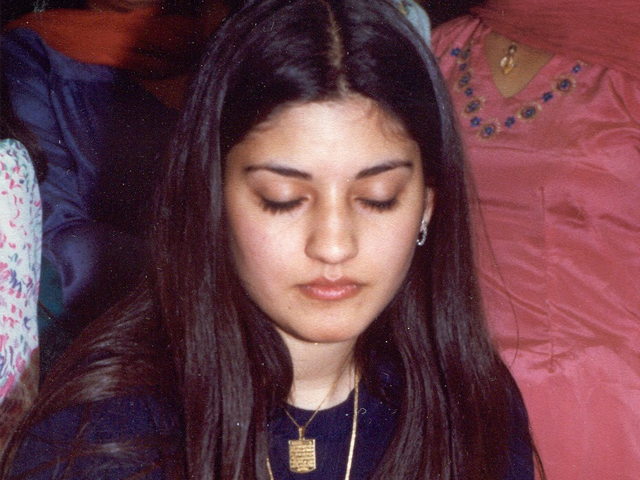 ---
KARACHI: Today marks the 53rd birth anniversary of Nazia Hassan, Pakistan's late queen of pop who was born in Karachi on April 3, 1965.

To commemorate the Nazia's life and contributions to the world of music, Google updated its homepage doodle to a cartoon image of her singing.






The late pop sensation was just a child when she began her singing career during the 1970s. She began by first appearing on several television shows on PTV as a child artist and then went on to become one of the most iconic stars to emerge out of Pakistan, ever.

Her professional career began  when she lent her voice to the song Aap Jaisa Koi from the 1980 film Qurbani. The hit number helped the then 15-year-old Nazia bag a Filmfare Award in 1981, thereby making her the first and youngest Pakistani to have won the prestigious accolade ever.




But few would know this but Nazia was also a lawyer and social activist, with a degree from the American International University in Richmond. On 23 March, 2002, the Government of Pakistan awarded Nazia the highest civilian honour in the country: the Pride of Performance.

Nazia, alongside her brother Zohaib Hassan, were a band of their own. She was the pioneer of disco music in the subcontinent, blended with evocative lyrics and incredible pop music. Some of Nazia's evergreen hits like Disco Deewane, Boom Boom, Dosti, Dam Dam Dee Dee and many more still remain embedded deep in the hearts of her fans. In fact, Dosti and Disco Deewane haven been revamped recently as well, the former for Mahira Khan, Sheheryar Munawwar and Adeel Hussain-starrer Ho Mann Jahaan, and the latter for Karan Johar's 2012 hit Student of the Year.




Not only this, Nazia and Zoheb started a music show called Music 89 which was directed by the acclaimed director Shoaib Mansoor. Music 89 served as the launching pad for many new talents including Vital Signs, Ali Haider, Sajjad Ali and Strings.

About 17 years on, Nazia still lives in our hearts of Pakistan. "Nazia Hassan: A legend; a lady who opened paths for many talented women to go for their dreams," tweeted a fan, on her birthday. Another one wrote, "Nazia Hassan's music clearly seemed to be ahead of its time. Surreal stuff."




"The 53rd birthday of the ravishing and talented icon of pop music, Nazia. Her energetic, lively voice had given a new phase to the world of pop music. That dazzling young girl... May her soul rest in eternal peace," penned another fan.

Earlier, in an exclusive interview to The Express Tribune, Zoheb reminisced about the time he spent with Nazia. He even addressed the rumours that some directors are looking to make a biopic on his sister and him.

"A lot of people came to me saying that they want to make a film on Nazia but my family has been very reluctant," Zoheb had said.




"However, I was approached by someone from Bollywood, who assured me that they would only show the film how Nazia's family would want it to be shown. I told them that I didn't want any dance numbers or a typical Bollywood flick because our life wasn't like that. I wanted to make something that the film was a true representation of us."

Zoheb continued, "So yes, there is a film based on both of our lives. The story is about a brother-sister duo –  Nazia and I – who start with Sohail Rana's program in Karachi that takes them to London. Once they get there, things don't come easy and everyone tries to pull them down. But Nazia was a fighter; she would protect me and make sure no one said anything negative to us or to Pakistan. She was very patriotic."

Nazia passed away in 2000 after a long battle with lung cancer. Rest in peace, superstar.

Have something to add to the story? Share it in the comments below. 
COMMENTS (3)
Comments are moderated and generally will be posted if they are on-topic and not abusive.
For more information, please see our Comments FAQ