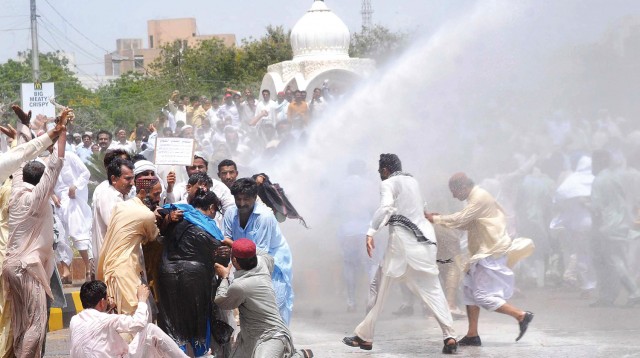 ---
KARACHI: "They don't look like teachers," quipped a bystander observing the protest that was organised by teachers associations outside the Karachi Press Club on Thursday.

Indeed, when The Express Tribune caught up with some of the protestors to gather some quotes, it seemed as if some outsiders had infiltrated the demonstration:

Reporter: What is your name?

Protestor: Who are you?

Reporter: I am a journalist.

Protestor: Then you record my statement.

Reporter: Introduce youself first. Are you a teacher? Where have you come from and which school do you teach at?

Protestor: Who are you?

Reporter: I already told you that I am a journalist.

Protestor: No, you are not. You are an education department officer.

Reporter: Whatever you say. But even if I am at least tell me so that I can tell my superiors about your demands.

Protestor: No. Why should I talk? There are so many others around. Why don't you go and talk to them? Reporter: At least tell me where you are from.

That is when the protestor melted away into the crowd. Education minister Pir Mazharul Haq had said that some people not related to teaching were getting involved.

This is not to say that the entire crowd was made up of such people - the majority of them were teachers. The teachers, including scores of women under the banner of the Sindh Professors and Lecturers Association (SPLA) tried to march to Governor House. This blocked the city's main connecting thoroughfare to Saddar as the law-enforcement agencies worked to prevent them from advancing. Tear gas was fired and the water cannons aimed into the crowds at the entrance to the road leading to Governor House.

When this attempt failed, the teachers agitated on the road, causing a massive traffic jam at the junction of Abdullah Haroon Road, Fawara Chowk and Zainab Market. They pelted the police with stones and at least five to six police officers and dozens of teachers were injured in the scuffles.

The police also detained 50 teachers and took them to the Artillery Maidan police station but no case was registered against them.  Pakistan People's Party MPA Rafique Engineer tried unsuccessfully to negotiate.

The SPLA said that they were protesting as the chief minister had delayed approving their benefits and allowances. "We wanted to go to Governor House to present a memorandum," said Athar Mirza of the SPLA.

Inam Razi, a college teacher, told The Express Tribune that their problems had been long ignored. "No one is listening to our voices and they criticise us unduly," he said.

Education department officials said that the teachers associations should provide evidence that the summary had been rejected. "They will not give you evidence if you asked them. They are only doing this to achieve other interests like those in the upcoming elections in the association," one official said. "This was nothing else than an election stunt and it was very disappointing."

Additional Secretary Literacy & Education Ashfaq Qadri said that there were many complications. "We have repeatedly said that the summary is on the table of the Chief Minister with solid proposals which need a green light from the finanace department."

The total number of teachers in all categories is more than 100,000. The break-up shows that there are 90,451 primary school teachers in the province. The number of junior school teachers is 1,970 and highschool teachers is 15,307. Sindhi language teachers are 967 and the number of subject specialists is 849.

Published in the Express Tribune, May 28th, 2010.
COMMENTS
Comments are moderated and generally will be posted if they are on-topic and not abusive.
For more information, please see our Comments FAQ