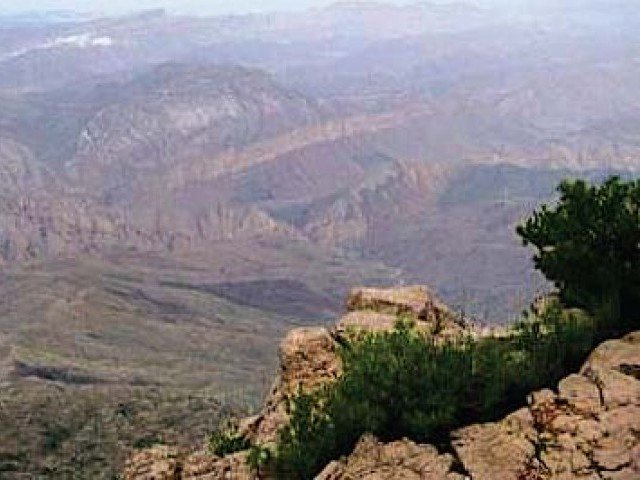 ---
KARACHI: Ministers belonging to the Pakistan Peoples Party (PPP) have asked the provincial government of Balochistan to withdraw its claim of Kute Ji Qabar, a peak located in the Kirthar mountain range, according to reports.

The ministers noted that the peak historically belongs to the people of Sindh, rejecting claims of the Balochistan government.

Addressing a hastily arranged press conference at the Sindh Assembly on Wednesday, PPP leader Nisar Khuhro blamed the recent delimitation of constituencies for causing problems.

Rediscover the mountains of Pakistan

"During the recent delimitation process, Balochistan government has demarked this area as its constituency, which is not acceptable," he told reporters.

"This spot falls in Kamber Shahdadkot district and is the highest area in Kirthar mountain range crossing Sindh," Khuhro informed the media.

Earlier, a few research scholars, including Mirza Kalech Baig, also conducted their survey and studies of this area, which will reportedly be converted into a tourist area soon.

Tourist Spots in Balochistan remain a lucrative offer for visitors

"It is situated at an elevation of 6,000 feet, which is even higher than Gorakh hill station," Khuhro added.

Brandishing the 1876 gazetteer and other official records, he said,  "Not today, but this place has been part of Sindh since centuries.

He added that people of Sindh have close relations with their Baloch brothers, but were not prepared to compromise on this issue.

"We will not allow anyone to encroach our resources and land spreading over 248,000 acres," he said.

Lofty ambitions: Development of Gorakh hill station still up in the air

Khuhro, who was flanked by PPP MPA Sardar Chandio, also presented a few maps detailing the problem area to the audience and said, "We will approach Balochistan government and try to convince them, otherwise we will use other legal options available to us," he said further.

PPP MPA Chandio, who belongs to the area, called the claims an encroachment on part of Balochistan government.

"Before the creation of Pakistan, the Baloch rulers, including Khan of Kalat, had accepted that it was part of Sindh. Now, the incumbent government is using different tact to occupy it," he said, adding that Baloch government should reconsider the decision.
COMMENTS
Comments are moderated and generally will be posted if they are on-topic and not abusive.
For more information, please see our Comments FAQ