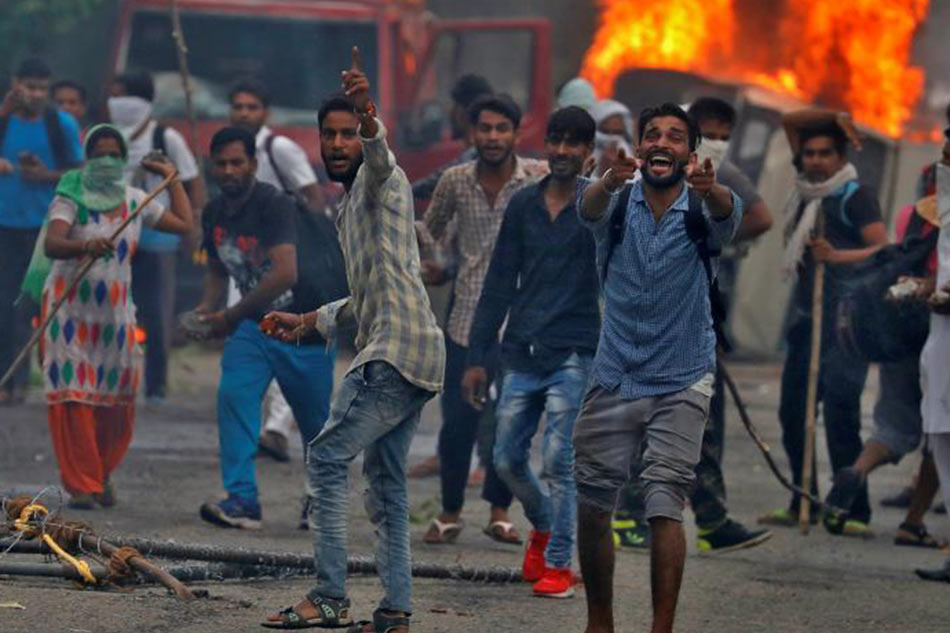 ---
KOLKATA: Clashes in India between supporters of Prime Minister Narendra Modi's party and those of an opposition party snowballed into Hindu-Muslim rioting, with three people killed and dozens injured over two days of violence, police said on Tuesday.

The trouble in the eastern state of West Bengal began on Sunday with rival processions by Modi's Bharatiya Janata Party (BJP) and the state's ruling Trinamool Congress marking the birth of the Hindu god Rama.

Violence broke out on Sunday and spilled over into Monday, turning into clashes between Hindus and Muslims.

Missing Muslim representation from India's poll narrative worries local bodies

Anuj Sharma, a top police official in the state, said officials had held an emergency meeting on Tuesday and security had been increased, with riot police deployed, and about 100 people detained to snuff out the violence.

"Large scale arrests are underway," Sharma told Reuters.

The danger of communal violence is a constant worry in the world's biggest democracy. Tension between Muslims and Hindus has increased in some places since Modi and his Hindu-nationalist BJP came to power in 2014.

Indian Muslims are bearing more babies to take over India by 2030: BJP lawmaker

Babul Supriyo, a BJP federal government minister from West Bengal, blamed Muslims for the violence.

"Goons from the minority community" had torched shops and "pulled Hindus out from their houses and assaulted/injured them brutally with choppers and swords," he said on Twitter.


The Goons from Minority community came, slaughtered and was given a safe haven to escape.. The entire nation needs to know how dirty a politics of Appeasement Mamta Govt is playing in Bengal. @BJP4India @narendramodi @AmitShah @BJP4Bengal @KailashOnline @DilipGhoshBJP pic.twitter.com/feUTwQg4rG

— Babul Supriyo (@SuPriyoBabul) March 26, 2018


Police declined to comment on Supriyo's assertion while a Trinamool Congress leader denounced it as "highly regrettable". Muslim community leaders were not available for comment.

Two Indian girls beaten up for visiting zoo with Muslim friends

State BJP chief Dilip Ghosh said at least half a dozen senior BJP members had been named in police complaints for causing disharmony between communities and illegally carrying weapons, but the party denied wrongdoing.

West Bengal Chief Minister Mamata Banerjee, who heads the Trinamool Congress and is one of Modi's biggest critics, ordered strict police action against all trouble-makers.

Modi's party has been trying hard to gain ground in West Bengal, one of the few states it has never ruled. The party is in power in 21 of India's 29 states, propelled by Modi's popularity as well as by religious polarisation in some places.
COMMENTS (3)
Comments are moderated and generally will be posted if they are on-topic and not abusive.
For more information, please see our Comments FAQ