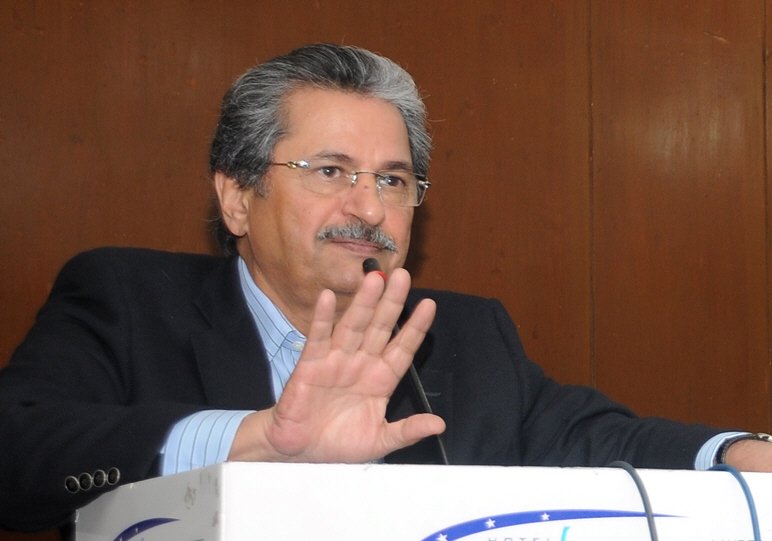 ---
LAHORE: Pakistan Tehreek-e-Insaf (PTI) has highlighted corruption of over Rs7.5 billion in the Rawalpindi-Islamabad Metro Bus project and medicine procurement for public hospitals.

Speaking at a news conference here on Sunday, PTI anti-corruption and accountability wing head MNA Shafqat Mahmood has asked the chief justice of Pakistan (CJP) to take suo motu notice and order an investigation into "mega corruption scams" in Punjab.

Referring to the auditor general of Pakistan's (AGP) report, he indicated that the Punjab government had embezzled over Rs620 million in procurement of just one medicine. He claimed that a whopping Rs1.5 billion or more had been embezzled in medicine procurement during FY2016-17.

The PTI leader pointed out that the same medicines were procured by the Khyber-Pakhtunkhwa (KP) government at half of the price during FY2016-17. Highlighting prices of different medicines, he said KP had procured Caftriaxone 500mg injection for Rs23 per unit, while the same was procured in Punjab for Rs79 per piece. Similarly, Diaclofenac Sodium 50mg tablet and Diaclofenac Sodium 75mg/3ml injection were purchased by the K-P government for Rs0.31 and Rs5.40 per unit respectively. The same medicine was bought in Punjab for Rs3.75 and Rs17.22 per unit.

He further said Omerprazole 20mg capsule was procured by the K-P government at Rs1.09 per capsule, while Punjab government bought the same for Rs9.29 per capsule. Amoxicillin suspension 250mg/5ml was bought by K-P for Rs33.32 per unit and the same was procured by Punjab government for Rs60 per unit.

"Punjab Chief Minister Muhammad Shehbaz Sharif should step down from his position after such a mega corruption scandal in the Punjab health department, he maintained. The MNA urged the National Accountability Bureau (NAB) chairman to order an inquiry into multi-billion rupee corruption scams in Punjab.

Mahmood said everyone is aware of the fact that Rawalpindi-Islamabad Metro Bus is the most expensive transport project, in which payments of over Rs1.5 billion were made. The report highlights that over Rs500 million irregularities were found in the procurement of concrete works and the payment went 40% above the agreed amount.

Punjab Assembly Opposition Leader Mian Mahmood ur Rasheed highlighted that ruling party conceals all such information and does not bring these scams on the Public Accounts Committee (PAC) agenda. He also requested the CJP to take notice of this gross corruption.

Answering a question, he said names for the caretaker Punjab chief minister have not been finalised. However, the party will propose two names after consultation. Meanwhile, Shafqat Mahmood disclosed that Pakistan Peoples' Party' (PPP) Syed Khursheed Shah has approached PTI Vice Chairman Shah Mahmood Qureshi to discuss the caretaker setup. A meeting is expected between both leaders soon in which Qureshi will name a candidate for caretaker prime minister.

Published in The Express Tribune, March 26th, 2018.