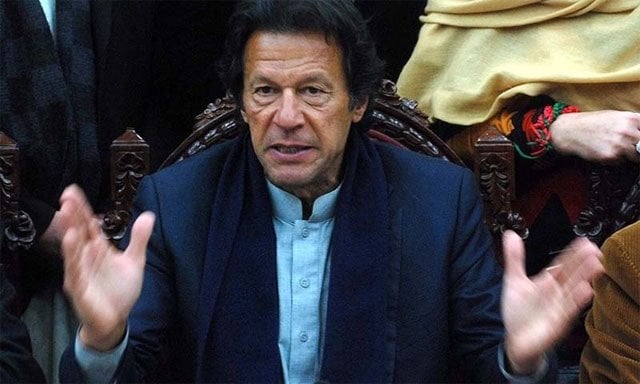 ---
Pakistan Tehreek-e-Insaf (PTI) Chairman Imran Khan has said that apprehensions of Quaid-e-Azam can be seen in Pakistan today where there are more challenges than in European countries.

"The purpose of our membership campaign is the forthcoming elections. We have to win the 2018 match," said the PTI chief while speaking to Rehman Azhar, host of Centre Stage on Express News, on Friday.

He said that the PTI would gather and compile opinions of members through the membership data, adding that "we shall also consult our workers about the selection of our candidates."

Imran, Jinnah and Pakistan's problem

On Dr Amir Liaquat joining the PTI, Khan said, "Amir will be highly useful for us in the 2018 elections. One thousand candidates will be given tickets. Amir Liaquat can be our candidate in Karachi."

To a query, he said, "Neither is Amir Liaquat an angel, nor am I. The whole party has welcomed Amir Liaquat. There was also criticism when Fawad Chaudhry joined us."

He said, "If Amir Liaquat criticised me, he has the right to do so. I forgive him for whatever he said about me."

He said that he would welcome anyone who was not corrupt and stood by him against the mafia.

On the Senate chairman and deputy chairman elections, Khan said, "In case the PML-N had won the Senate elections, they would have had passed a bill allowing corruption. We wanted the Senate chairman from smaller provinces."

Rejecting reports of an alliance with the PPP, Khan said, "There is no alliance with them."

Imran show of power in judiciary's support today

The PTI chief said, "There is no difference between Zardari and Nawaz Sharif. Zardari and Sharif have destroyed Pakistan. They are a threat to security. Nawaz's era is worse than Zardari's."

On horse-trading in Senate election, Khan said, "We are investigating members who sold their votes and will expel them from the party."

He accused the PPP of paying Rs40 million for every vote they purchased.

"No one will be issued a ticket until we are completely satisfied. I have the veto power to issue party tickets," he added.

On the general elections, Khan said, "The prime minister in the caretaker set-up should be an economist. He should be impartial."

Criticising Shahid Khaqan Abbasi, Khan said, "There never has been a weaker PM as they want military and judiciary to save them."

He said, "If we win the general elections, our first priority will be to improve the economic condition giving top priority to governance."

On tax collection, Khan said the Federal Board of Revenue needed to be fixed.

"The population has increased, but the number of taxpayers has decreased.

I shall give you a collection of Rs8,000 billion every year if I come to power," vowed Khan. "People will pay tax if they know that the amount will be spent on them."

On judicial reforms, the PTI chief said, "We are introducing reforms for immediate dispensation of justice."

Criticising Sharif, he said, "If there was no judiciary, these rulers would have looted the whole nation. Shehbaz Sharif has made a lot of money in Metro."

He said, "Mobile phone is the future now. Secret opinions can be gathered from the members through mobile phones."

The party elections in future would be held using this method, he added.

On political alliance, Khan said, "We have had a very bad experience with political alliance in the Khyber-Pakhtunkhwa. Our workers wanted to use our allies' wrong methods to justify their own wrongdoings."

The PTI chief said, "It is our own accountability cell that questioned Ziaullah Afridi. I say on record that any alliance with PPP before or after election is simply impossible."

He questioned that how could a person fighting corruption become an ally of Zardari?

"Sharif failed to provide evidence in the Panamagate case while I provided 64 documents of one flat," the PTI chief concluded.