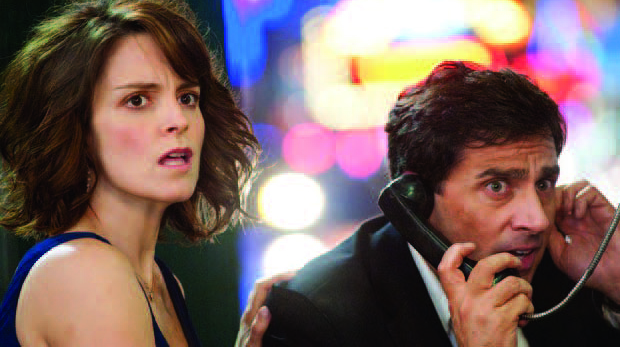 ---
Date Night is a movie perfectly packaged for suburban married couples, a demographic that is represented by the two lead characters in the film — grown-ups with too many chores and too little time, for whom watching the standard two-and-a-half hour fare is a serious commitment. Clocking in at a manageable 90 minutes, it delivers the right dose of humour, thrills, pragmatic romance and wry moralising before sending you on your way to deal with the next round of errands. In fact, it resembles perfectly the obligatory date night that Phil and Claire Foster (played by Steve Carrell and Tina Fey) have every week: predictable, pleasant, convenient. Just enough to rejuvenate you without seriously upsetting your workday.

TV veterans Steve Carrell and Tina Fey bring their combined comedy chops to the big screen and, to lay to rest the trepidation of their legions of fans, they acquit themselves well. Date Night comes amidst a lot of expectations, but it succeeds because it sets itself modest targets. Phil and Claire Foster are a nice, loving couple whose demanding jobs and children don't leave them with much time for each other. So their marriage has gotten a little too routine, their romance a little too stale. From the opening sequence, which shows the slumbering parents awakened by their toddler's well-projected dive onto their bed, the movie strikes comic gold with its spoofs of dutiful parenting. Carrell and Fey, both married parents in real life, are well-matched as a somewhat boring New Jersey couple — she's a real estate agent, he's a tax consultant. When their best friends get ready for divorce because they're little more than "excellent roommates", the Fosters become anxious about their own humdrum relationship.

Instead of settling for the routine potato skin and salmon at their local steakhouse, the Fosters take their night out to a whole new level when they spontaneously decide to dine at a hip new restaurant in Manhattan. Miffed at being blown off by the snooty maitre d, they steal the reservation of a no-show couple, the Tripplehorns, who happen to be involved with mobster boss, Joe Miletto, played by Mafia staple Ray Liotta. When Miletto sends his henchmen to get a flash drive with incriminating evidence, the Fosters plunge into an unexpectedly exciting date night.

What follows is a standard mistaken-identity comedy with the Fosters searching for the real Tripplehorns to vindicate themselves and bring the criminals to justice. Helping them track down the Tripplehorns is Detective Arroyo (Taraji P Henson ) and Holbrooke Grant (Mark Wahlberg), a government security analyst and former client of Claire. This is a traditional screwball comedy with smart, sassy Tina Fey openly salivating over Mark Wahlberg's shirtless security analyst while her henpecked husband sports a look of bemusement.

As these no-nonsense grown-ups try to navigate madcap situations there are many moments of genuine laugh out loud comedy and others of inexcusable cheese. Before the chases and the missed leads become monotonous, the movie has the good sense to wind down and the sentimental ending gives positive affirmation to the tedium of getting your kids into their pyjamas.

Published in the Express Tribune, May 30th, 2010.