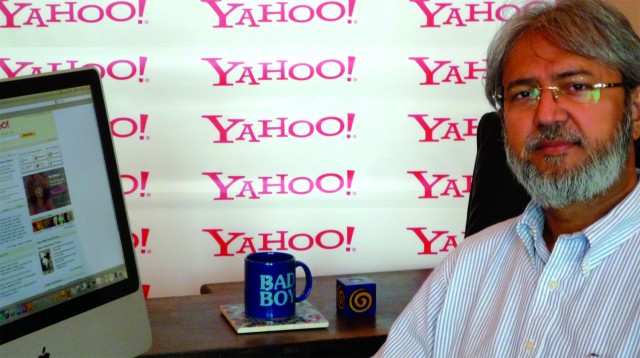 ---
About six months ago, a painfully funny video was making the rounds online. Even if every single Pakistani on the planet had not seen it, they had heard about it, even the ones who didn't quite understand what the internet was. The clip shows the rehearsal of an interview being conducted by popular film star Meera, in which she struggles to speak in English to a shell-shocked Tapu Javeri, the high profile fashion photographer. "Vee vill be the back," she stammers, "after right shot break!" She then looks around, smiling uncomfortably, seeking reassurance from Javeri and her crew members.

While the clip remains popular and might very well retain its legendary status for years to come, another discovery caught the attention of the viewers: ChaltaTV.com, the website that originally uploaded this video. Not only was Chalta TV the first video-sharing site where this video could be accessed, it was a treasure trove of other Pakistani videos, from old advertisements to the latest news clips and interviews. It was everything a Pakistani video junkie could dream of. Irfan Ahmad, the creator and owner of the website, thoroughly enjoyed the time the Meera video first went up. "I would put an ad of the clip up on Facebook, targeting people from Pakistan, and five minutes later my site would crash," he says, laughing. Chalta, with its 100,000 viewers a month, is not the only brainchild of the internet guru. His recently launched Chutti.pk, is Pakistan's first ever travel website and he is currently working on his third venture, Khabristan.com, a website for financial news from Pakistan.

Ahmad, 53, admits that his family thinks he's kind of nuts doing what he does. He laughs when he thinks about it. Physically, he is exactly what one would expect of a computer geek, with long, thick hair, a beard and glasses — except he's at least 20 years too old. When one imagines someone breaking ground in internet technology in a third world country, you think young. Maybe a 20-something with baggy jeans and headphones. "That," Ahmad explains, "is a digital native, someone who grows up with the internet in his life. I would be classified as a 'digital immigrant', a person who grew up with print and TV and then went into the world of the internet." Though, he adds with a smirk, "I probably know more about it then a digital native does."

Ahmad got his Ph.D in Economics from Boston University and joined the family advertising sales business. He was also a member of the Prime Minister's Task Force on Export Promotion and did his "mulk aur qoum ki khidmat" bit for three years and then decided to concentrate on running a business. In 1999, combining his advertising sales background with his fascination for the internet, Ahmad became the pioneer of online advertising sales in Pakistan. He became the exclusive advertising sales representative for Pakistan and the Middle East for Yahoo! and continues to represent them to this day. His day job is what "gets food on the table."

Chalta TV was a spur of the moment idea. While Ahmad was working on creating Chutti.pk during November 2007, former president Pervez Musharraf declared an emergency and blocked all news channels. Ahmad, who was in Dubai at the time, was inundated by phone calls from his Pakistani friends asking about the latest news. It was then that Ahmad decided to create a site where Pakistanis could watch news clips from various channels. He found a YouTube archetype online, bought it for a couple of hundred dollars, tweaked it according to his requirements and Chalta TV.com was up and running in less than a week. And that's where its name came from: "Everything else was bund, but our TV was on. It was chalta TV!" Initially he uploaded 10 to 15 clips everyday, from various news channels including Geo, ARY, CNN and BBC. To respect copyright infringement laws he took only two to three minute excerpts and put them up on the site with the channel's logo on the clip. The immediate response was overwhelmingly positive. " Within three weeks of launching the site we had to change the server and move to a bigger one to handle the huge traffic we were generating," recalls Ahmad. "We used to get requests for more frequent updates of the news and we hired several people to constantly update videos."

Even though Ahmad and his team later added entertainment and advertisement videos, and viewers now have the option to view 12 different categories of clips, his philosophy remains the same: to show people what they should be allowed to see. Chalta TV's 'About Us' section states:  "Let the spirits soar. Let freedom percolate. Let there be unrestrained speech. May the people of Pakistan always be blessed with freedom of thought and action! May we live in a world where the oppressed can voice their opinion. And be heard…TV Chalta Rahay!"

While Chalta was an effort to advocate freedom, Chutti, Ahmad admits, was purely a business decision. " I knew two Danish guys who settled in the Middle East and made a PR website which they sold for $29 million," he remembers. " I saw this company grow, I and I was like…if these people can do it I should be trying something similar." This motivated Ahmad to pursue a venture other than selling ads for Yahoo! and doing something on his own.  He got his travel-related clients from Yahoo! to advertise on Chutti.

Chutti does not sell tickets or generate money. The most it does is allow travellers to book hotels through the site. What Chutti really wants to do is simply provide a Pakistani traveller with information. What is different about it is that it also caters to Muslim travelers. It tells them where mosques are located or how many halal restaurants a city has. Very soon the site will be accessible through mobile devices and GPS will allow a person to access directions to the closest mosque or halal restaurant, wherever they might be in the world. Ahmad and his team are also working on sections that will be promoting domestic tourism.

Chutti and Chalta, both give Pakistanis something they have never seen before. While Chutti assists the Muslim traveler, Chalta provides content related to Pakistan, "Admittedly it is a me-too kind of site but unlike some other local video sites we do not allow uploading of entire programmes and avoid culturally sensitive content."

Ahmad's work keeps him satisfied.  "If I did not enjoy doing this I would not have spent my time, effort and money on ideas which do not have a high track record of success. Besides, Chutti's travel articles section also provides me with an outlet to indulge in my passion for writing - which had so far only been used for writing proposals for advertising on Yahoo!"

This article has been revised to reflect the following correction:

Correction: May 30, 2010

An earlier version of this article incorrectly spelt Mr Irfan ahmad's name as Imran Ahmad.

Published in the Express Tribune, May 30th, 2010.