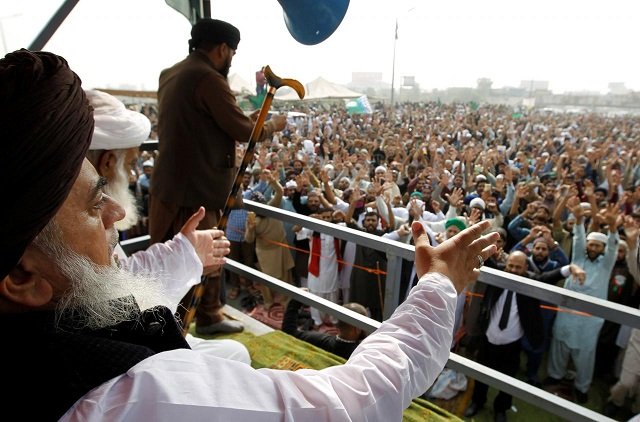 ---
An Anti Terrorism Court (ATC) on Monday issued arrest warrants for Tehreek-e-Labbaik-Ya Rasool Allah (TLYRA) firebrand cleric Khadim Hussain Rizvi and Afzal Qadri in a case related to last year's Faizabad sit-in.

The police failed to submit final challans against Rizvi and Pir Fazal. Court has ordered police to submit final challans by April 4.

The court expressed dismay over no show of main culprits in the ongoing case. Three cases have been registered against Rizvi, Qadri and Maulana Inayat.

ATC Judge Shahrukh Arjumand has postponed the next hearing till April 4.

Khadim Hussain Rizvi declared absconder

ATC on March 6 declared Rizvi as well as other leaders of Tehrik-e-Labbaik absconders and initiated the proclamation process against the suspects over their failure to appear for trials of cases relating to the Faizabad sit-in.

ATC Judge Shahrukh Arjumand issued the proclamation under Section 87 (absconding) against Rizvi and others after they failed to appear before the court to face three separate cases lodged against the clerics and protesters.

Court officials revealed that the court had earlier issued non-bailable arrest warrants for Rizvi and others after they failed to respond to various summonses issued to them. Earlier, a local lawyer Rao Abdul Rahim had appeared on behalf of the clerics and obtained bail for them.

When the court resumed hearing on Monday, prosecutor Shafqaat Chaudhry informed the court that despite service of various summonses, the clerics did not appear. He said that the police could not execute the arrest warrants since the whereabouts of these clerics were not known.

The court then directed the prosecution to issue proclamations for Rizvi and other leaders of Tehreek-e-Labbaik.


COMMENTS
Comments are moderated and generally will be posted if they are on-topic and not abusive.
For more information, please see our Comments FAQ