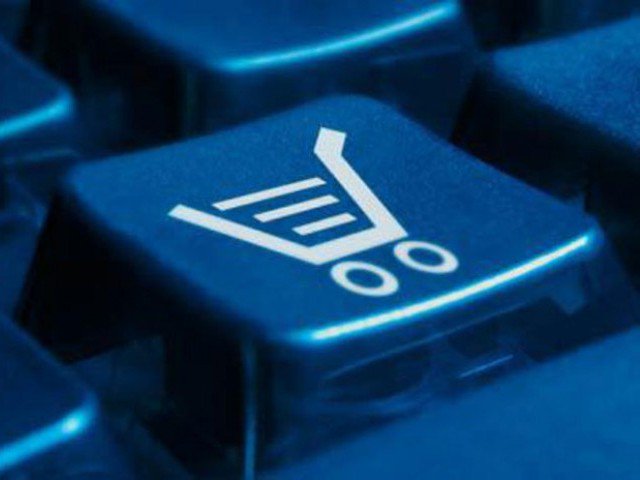 ---
KARACHI: In a surprising but welcome development, the size of Pakistan's e-commerce sector is expected to cross the coveted $1-billion mark in fiscal year 2017-18, much earlier than previous estimates, said an industry official.

Propelled by the increase in broadband penetration as well as a rise in the number of online payment merchants, the six-month data of the central bank suggests that Pakistan will cross the threshold in FY18, two years ahead of earlier projections. Adam Dawood, head of Yayvo, the online shopping portal that is part of TCS E-COM (Pvt.), said that strong growth during the current fiscal year will push annual sales beyond $1 billion.

"If we believe that 85% of the market is based on cash on delivery (COD) payments, then the fact that we have already achieved Rs9.3 billion of prepayment sales within the first six months of FY18 puts us on a fairly easy course to hit $1 billion in e-commerce sales this year," Dawood told The Express Tribune.

Online shopping: Consumer rights for fairer digital marketplaces

When asked how the percentage for COD payments was determined, Dawood said according to market practices more than four out of five orders have been reported to be cash on delivery. Based on this assumption, Dawood says total e-commerce sales during the first two quarters have already reached Rs65.3 billion.

"Data of the last seven quarters shows that total volume of e-commerce sales has risen every quarter except for the second quarter of the current financial year. Assuming the trend stays the same we are sure to cross $1 billion in sales," Dawood said.

According to this data, prepayment sales during the previous fiscal year amounted to Rs9.8 billion. Durign the first half of the current fiscal, sales of Rs9.3 billion have been made, according to the Payment System Review published by the State Bank of Pakistan (SBP). Based on these numbers, half-yearly prepayment sales have already surpassed 95% of total prepayment sales during FY17, which lends much credence to Dawood's prediction.

Growth factors

He backed his assumptions with two major positive indicators that have historically pushed the sector forward. "Broadband penetration and number of online payment merchants have both witnessed a massive increase within the year. Number of subscriptions has increased from 44.5 million to 52 million subscribers while the number of merchants has gone up from 571 to 905 by January."

Higher smartphone and internet penetration coupled with increased number of online payment merchants expand both the total serviceable market of customers and the availability of online purchases. In layman terms, the e-commerce sector is witnessing both demand- and supply-led growth.

"People are realising its easier to buy tickets to their favourite movies or make their travel plans online rather than going to an agent," Dawood elaborated on the appeal of e-commerce for consumers.

"Increased reliability of online shopping along with its ease and comfort compared to traditional retail are drawing higher number of consumers.

"Banks have also started opening up their debit and credit cards to be used online as they implement 3D securitisation, making transacting online a much more seamless journey than before."

Sub-par performance regionally

Despite encouraging growth, the size of Pakistan's e-commerce sector is still negligible compared to regional countries. According to market research portal Statista, Pakistan's e-commerce sales amounted to $622 million in 2017 compared to India's $20.05 billion and China's $1.2 trillion. In relative terms too, both India and China outpace Pakistan with e-commerce sales as a percentage of country retail sales being 1.85% and 21.19%, respectively, compared to Pakistan's 0.34%.

Dawood blames the delayed availability of mobile broadband services for the relatively small size of the e-commerce sector, rather than deficiencies on part of e-commerce firms.

"Investment in technology is crucial for our economy to continue growing in the digital age," Dawood contended. "Studies by the GSMA have shown that once 3G technologies enter a country it has a direct impact on GDP growth. Sri Lanka got 3G in 2006 with India starting in 2008, whereas Pakistan came in very late in 2014."

The widespread availability of the cash on delivery mechanism is a major blessing for the e-commerce sector, Dawood stated when asked for remedial measures required, other than investment in technology infrastructure, for increasing growth. "We have more than five online payment gateways and our logistics companies can reach practically every Pakistani and offer them products through COD," Dawood said.

The game changer, he believes, would be increased usage of digital financial services. "We only have 19.8 million debit cards and 1.3 million credit cards with 49 million bank accounts. When the number of bank accounts starts reaching the number of mobile connections in the country, we will see exponential growth in almost every industry in Pakistan," he said.

A remedy for inconvenience

Dawood said sectors that entail the greatest inconvenience for customers will benefit most from online transactions.

Taking the transportation sector as an example, Dawood said booking of bus tickets requires visiting bus stations or travel agents, which can now be done online. Similarly, he cited the facility of getting certificates from NADRA online instead of standing in queues outside their offices.

"Everything from getting cinema tickets to ordering a taxi is now easy, simple and convenient," Dawood said.

'Sooner, faster, now' - the companies surfing the e-commerce wave

Transformation rather than innovation

While the trend remains impressive, Pakistan, slated to post its highest GDP growth rate in over a decade this year, remains under-developed when it comes to e-commerce. "The entire retail industry needs to embrace technology, and by technology I don't mean artificial intelligence or machine learning but simple investments in systems like inventory management," Dawood said, highlighting the systems' ability to talk to other systems through open APIs and the resulting efficiency they bring to the retail sector.

"So many retail stores still have those yellow price stickers on products, which is inefficient compared with products that have barcodes."

The writer is a staff correspondent



Published in The Express Tribune, March 19th, 2018.

Like Business on Facebook, follow @TribuneBiz on Twitter to stay informed and join in the conversation.
COMMENTS
Comments are moderated and generally will be posted if they are on-topic and not abusive.
For more information, please see our Comments FAQ