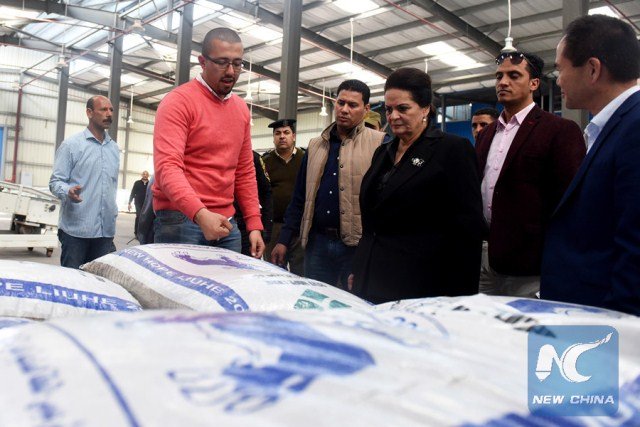 ---
BEHEIRA: Occupying a vast area of 29,000 square meters in Beheira province north of the Egyptian capital Cairo, the newly-established factory of China's agribusiness giant New Hope Group tells a good story about the growing ties between the two countries.

The sprawling animal feed producing factory, New Hope's third in Egypt, consists of four premises: an administrative building with a residential area, two storehouses for raw materials and final products, and a workshop where animal feed is made.

"Share Success with the Customers. Develop with the Society. Advance with the Society" is a theme painted in large white characters on the blue wall of New Hope's final products storehouse, while "New Hope Brings New Life" is the slogan written under the green-and-red logo of the company.

Saudi Arabia, Egypt, UAE sever ties to Qatar over 'terrorism'

"We started this branch in August 2016 and reached ideal production rates in October 2017. We invested about 100 million yuan (15.8 million US dollars) in this project," said Wu Qianfeng, general manager of the New Hope Alexandria Co., Ltd in the industrial city of Housh Eissa.

The Sino-Egyptian ties have been elevated to the level of comprehensive strategic partnership with growing economic and cultural cooperation in light of China's Belt and Road Initiative proposed by Chinese President Xi Jinping in 2013.

"The rapid development of our firm in Egypt is a result of the development of the trade relations and industrial cooperation between Egypt and China," Wu told Xinhua at the new factory, stressing that New Hope's expansion in Egypt is part of its greater expansion in Africa in general.

Beheira Governor Nadia Abdou recently visited the New Hope factory to inspect the work process and its final products.

Abdou, accompanied by a member of the parliament and local council officials, hailed the growing Sino-Egyptian relations, while vowing to ease all procedures for Chinese investment in the industrial zone in Beheira.

Chinese investment projects are present in nearly all major regions in Egypt, especially the Suez Canal industrial zone, Abdou told Xinhua.

"We as Egyptian people feel friendship and understanding with the Chinese people," she said.

"Egypt has become an investment attractive state because our local currency has become very encouraging for investors, the raw materials are mostly available and cheap, and the new investment law has been approved to facilitate business establishment," she added.

Strengthening Ties: Egypt investors eye Pakistan

New Hope's expansion in Egypt is just one example of China's growing investment in the most populous Arab state.

Other major Chinese investors in Egypt include the TEDA corporation, one of the oldest and largest industrial developers of the Suez Canal Economic Zone in Ismailia, and China's fiberglass giant Jushi, a tenant company of TEDA.

"It's not the first New Hope factory in Egypt, as the firm has been present in the country for five years. This is the third after the first was built in Sadat city in Minufiya province and the second in Beni Sweif province," said Mahmoud Abdel-Nasser, a deputy administrative manager of New Hope Alexandria.

Abdel-Nasser told Xinhua that a new New Hope factory for fish feed will soon be established in Gamasa city in the coastal province of Damietta in addition to New Hope's increased investment in poultry farming in El Alamein city in Matrouh province.

Like many other Chinese businesses operating in Egypt, New Hope has created hundreds of job opportunities to Egyptian youths.

Rana Sherif, a fresh graduate from a Chinese-learning college in Cairo's Ain Sham University, has been working as an Arabic-Chinese interpreter for New Hope for a few months.

Sherif said she learned punctuality, diligence and the spirit of hard-working during her work and communication with Chinese colleagues at New Hope.

"They work so hard all the time and working hours for them are so sacred. For the Chinese, business is business and leisure is leisure," she told Xinhua.