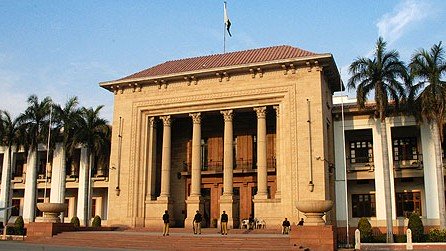 ---
LAHORE: Vice chairmen from dozens of union councils from various districts in Punjab on Thursday staged a protest in front of the provincial assembly for grant of powers to resolve public issues in their respective areas.

Lead by the vice chairmen Ittehad Punjab, the protesters asked the provincial government to grant them power to resolve their voter's problems.

They also demanded an amendment in the Punjab Local Government Act 2013 which would create room for them in the local government system.

Speaking to The Express Tribune, Muhammad Ramazan said all these men belong to PML-N but they have been struggling for over a year to enter the local government system. The other day, Nawaz Sharif said that he was struggling to restore the sanctity of the vote. "We are also struggling for the same but have not succeeded so far," he said.

Vice Chairman Muhammad Amin said their protests had entered a decisive phase. "Today, our demands will either be met or we will hand in our resignations. The government always tries to give us false hopes."

Local government representatives term 2017 a bleak year

Meanwhile, another group of vice chairmen, from NA-120 and NA-119 constituencies, held a press conference disassociating themselves from the protest. They said a few of their colleagues and friends are annoyed but they are trying to fulfil their demands. Soon they will stop agitation and follow the party guidelines.

Meanwhile, Manshallahullah Butt chaired a meeting to calm down the agitation and tried to assure the chairmen that their legitimate demands would be met. He expressed his displeasure over the protest by stating that the vice chairmen should have chosen another day to stage their protest.

"The entire nation is in mourning over the suicide blast that took place on Wednesday while the vice chairmen are protesting for power," he maintained.

The tug-of-war between local government representatives is lingering on since the launch of the new system. Chairmen, vice chairmen and even councillors have staged protests against the unjust distribution of power among different public representatives. 

Published in The Express Tribune, March 16th, 2018.