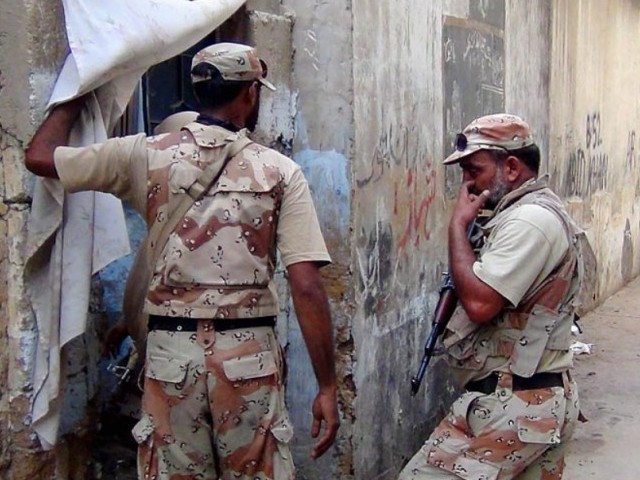 ---
One Rangers personnel was martyred and four injured in an exchange of fire with terrorists on late Tuesday night in Lyari area of Karachi.

According to Rangers spokesperson, the law enforcement agency was patrolling Ali Muhammad Mohala Zikri Para, Lyari when terrorists attacked the security personnel with hand grenades and automatic weapons.

In an exchange of fire, one Rangers personnel was martyred while four were injured who were shifted to Civil Hospital Karachi. One terrorist was killed in retaliatory fire.

One hand grenade, three homemade bombs, one 9-mm pistol and magazines were recovered from the slain terrorist.

Raids: Rangers kill suspected gang member in Lyari encounter

In an ensuing exchange of fire, Rangers and police cordoned off the area and conducted joint search operation.

The terrorists who were hiding in the area opened fire on the security personnel. In retaliation, four more militants were killed.

Four Kalashnikovs were recovered from their possession. All those killed belonged to Ghaffar Zikri group.

Sindh governor and chief minister  condemned the attack and directed the IG to submit a detailed inquiry report on an immediate basis.
COMMENTS
Comments are moderated and generally will be posted if they are on-topic and not abusive.
For more information, please see our Comments FAQ