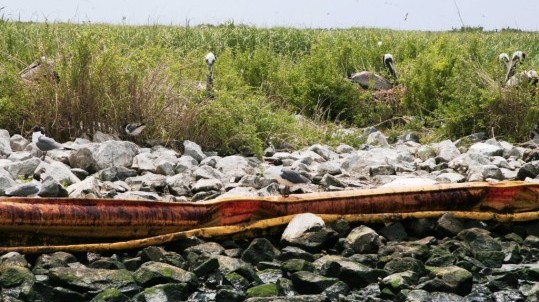 ---
NEW ORLEANS: British Petroleum (BP) on Wednesday launched a complex, risky deep-sea operation to cap the Gulf of Mexico oil leak, under huge pressure to get it right this time and staunch the five-week-old spill.

After winning final approval from US officials, the British energy giant announced the manoeuvre dubbed a "top kill" had begun at 1800 GMT. But after several previous failed attempts to cap the oil, BP boss Tony Hayward has already downplayed hopes of success, cautioning the procedure has never been tried before at such depth and against such pressure.

He warned it was expected to take two days to complete the difficult operation to inject heavy drilling fluids into the oil flow and then seal it with cement.

"The job has been proceeding according to plan," BP Chief Operating Officer Doug Suttles said later. The work being carried out by remote-controlled robotic submarines a mile (1,600 meters) below the surface aims to counterbalance the oil flow with the injected fluids, drowning the leak long enough to dump cement on top and permanently seal it.

White House deputy spokesman Bill Burton told reporters on Air Force One that President Barack Obama was being updated on the progress of the "top kill" operation. "I would say that his level of frustration is very high and that every moment that that hole is not plugged the president has a deep level of concern."

The Deepwater Horizon rig, 50 miles (80 kilometers) off the Louisiana coast, exploded on April 20, killing 11 workers. Its fractured pipe has been spouting oil for 36 straight days, creating a massive slick washing up along the Louisiana coastline and threatening endangered birds, animals and plants.

Oil from the giant slick has now soiled more than 100 miles of Louisiana coastline, state Governor Bobby Jindal said Wednesday, more than doubling the previous estimate.

"It's clear that this will be a transforming event in the history of deepwater exploration," Hayward admitted, with BP only having managed so far to siphon up some oil daily via a tube inserted into the pipe last week. Obama, who offered "every resource necessary to put a stop to this thing," is expected to announce tough new offshore oil regulations on Thursday after receiving an Interior Department report into what has become one of the worst oil spills in US history.

In a hint of what might be in the report, Interior Secretary Ken Salazar told lawmakers Wednesday: "There are significant enhancements that can be made with respect to the safety of outer continental shelf oil and gas development, and I think that is the way for us to go."

Millions of gallons of oil has seeped into the waters, contaminating Louisiana's fragile marshes and wetlands, though the exact amount of crude unleashed by the spill is unknown. A tour of coastal areas left Plaquemines parish president Billy Nungesser aghast at the devastation and what he described as an incompetent response to the disaster.

"The same oil that's been out there two weeks ago is still out there. And nothing is being done," Nungesser told CNN. "The marsh is dying. It's dead. And there wasn't a boat, there wasn't nothing.

And it's embarrassing," he said, adding that he felt top officials overseeing the spill response should be sacked and replaced. After minimum success with efforts to plug the leak by putting a containment dome over the pipe, Hayward has only put the chances of the "top kill" success at 60 to 70 percent.

But energy industry expert Eric Smith, from Tulane University in New Orleans, told CNN he was more optimistic the operation would work, saying he was less concerned about the depths involved.

The new bid to cap the leak comes as BP admitted there had been at least seven failures and warning signs in the hours before the explosion that something was wrong. "What we're seeing here is a whole series of failures. We've identified... at least seven," said Hayward.

A memo released by senior US lawmakers late on Tuesday detailed three warning signs in the last hour before the explosion, including sudden, unexpected pressure rises and fluid leaks. Congressman Ed Markey said the government should clean house at the Minerals Management Service, the bureau which oversees offshore drilling.

"It's got to be tipped upside down, cleaned out and a whole new structure put in place," he said. Officials are also readying back-up options but some, including the drilling of relief wells to divert the flow and allow the original well to be capped, could take several months.

The response by BP, Obama and the government all got bad grades from Americans in a new USA TODAY/Gallup Poll. Nearly three-fourths of those surveyed Monday and Tuesday said BP was doing a "poor" or "very poor" job. Sixty percent said the same about the federal government, while 53 percent slapped Obama with a poor rating on the crisis.

Thanks to a webcam which BP has placed close to the leak, the whole procedure is being aired live on US television, with news channels streaming footage of the oil gushing from the broken well pipe.