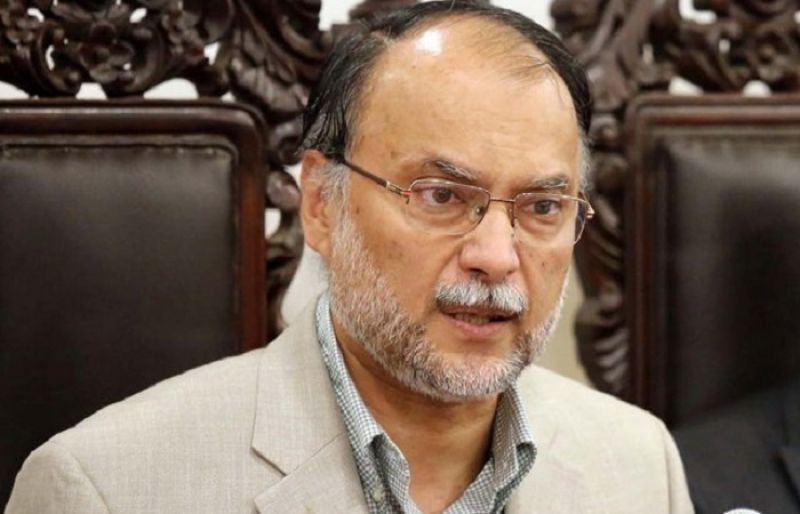 ---
ISLAMABAD: The government said on Friday that the decision of the Financial Action Task Force (FATF) to put Pakistan on its grey list was taken at the behest of the US to serve 'political motives'.

Three ministers of the ruling PML-N summarised the FATF decision as such while unveiling the government's plan to present the next federal budget before Parliament on April 27.

Interior Minister Ahsan Iqbal, who is also the planning minister, Division (Interior) said that a grey-list sword was now hanging over Pakistan because the country had recently graduated from black to grey and then to the white list in the last few years. He said the European Union had extended GSP Plus after admitting that Islamabad took steps to eliminate terror financing through the National Action Plan.

Sitting alongside Adviser to the PM on Finance Miftah Ismail and Minister of State for Finance Rana Afzal, the interior minister said that the government consciously adopted the aggressive path of growth and investment while aware of its negative effects, including rising external financing requirements for a few years, but they could not compromise by allowing for slower growth because of two million new job entrant youths.

"Without the completion of a mutual evaluation, FATF went after Pakistan due to pressure exerted by the US for political motives. PPP leader Asif Ali Zardari has been criticising the government for being put on the grey list, but he forgets that Pakistan wound up on the blacklist under the last PPP-led regime," he added.

US offers Pakistan new partnership but with caveat

Miftah Ismail said that foreign currency reserves held by the State Bank of Pakistan would be maintained at $12.5 billion by end of the current fiscal while circular debt of Rs150 billion would be cleared before the government completes its tenure.

Foreign currency reserves held by the SBP have already depleted to around $12.23 billion after falling by almost $1 billion in the last few weeks.

When asked how the reserves will be maintained at $12.5 billion, Ismail said they would borrow the money, but declined to share details of the plan.

"We have consulted political parties including the PPP and PTI and decided to present the next budget on April 27 as our tenure will be completed on May 31, 2018. There should be ample time for the provinces to also present their respective budgets and get approval before the end of the tenure," Ismail said.

He said that the debt to GDP ratio stood at 61.6 per cent as domestic debt rose from 38.8 per cent to 41 per cent in last five years while external debt decreased from 21.4 per cent of GDP to 20.6 per cent of GDP in this period. "We borrowed money to finance power sector and many other development projects," he added.

Ahsan Iqbal takes jibe at PPP for claiming it can bring end to 'international isolation'

On the rising current account deficit, he said the trade deficit used to be in the range of 2 to 3 per cent of GDP which could be financed easily, but after a jump in the import of machinery and raw materials for installing power plants, LNG terminals and others infrastructure, it could not be maintained by curtailing imports. In February 2018, the growth in exports went up around 15 per cent while imports only grew by 8 per cent, he further said.

Without referring to international market factors, Ismail said the prices of petrol, diesel and kerosene were higher in the PPP regime when compared to the existing PML-N regime. The price of gas and electricity was also on higher side during the last regime of PPP from 2008 to 2013 in comparison to the tenure of PML-N from 2013 to 2018, he added.

He said the FBR's revenue doubled in the last five year as the tax machinery collected Rs1.946 trillion in 2012-13, which would now go up to Rs4.013 trillion.

Answering a query regarding the IMF's concerns over Pakistan's macroeconomic instability, Iqbal replied that there was nothing to worry about.

He added that the country's average GDP growth was hovering around 3 per cent from 2008 to 2013, while it went up to 4.8 per cent on average in the last five years.
COMMENTS
Comments are moderated and generally will be posted if they are on-topic and not abusive.
For more information, please see our Comments FAQ