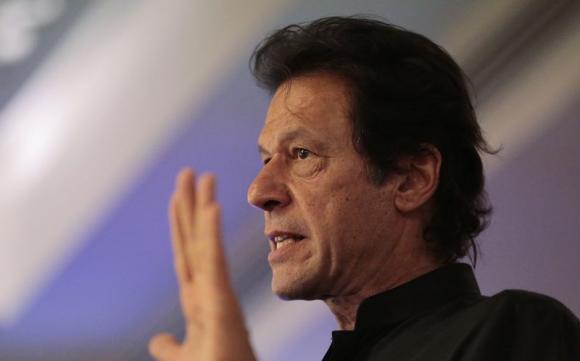 ---
ISLAMABAD/ KARACHI: Ruling out any cooperation with the Pakistan Peoples Party (PPP), the Pakistan Tehreek-e-Insaf (PTI) has proposed to support independents from Balochistan and the Federally-Administred Tribal Areas (Fata) for the slots of Senate chairman and deputy chairman, respectively.

PTI chief Imran Khan's announcement on Friday came as blow to the efforts former president Asif Ali Zardari has been making to grab the Senate's top slot for which many names are in circulation.

The PTI's earlier stance that it would do everything to block ruling Pakistan Muslim League-Nawaz (PML-N) from securing the covet slots, had given an impression that it might agree to support the PPP to achieve this objective.

However, Imran Khan on Friday ruled out the possibility of any alliance with the PPP, saying that shaking hands with 'Zardari and likes' will be tantamount to contradicting the PTI's 22 years long struggle against corruption.

Would like to see someone from Balochistan as Senate chairman: Imran

"There is a consensus within the PTI that its senators will not vote for the nominees of the PPP or the PML-N," Khan announced after chairing PTI's core group meeting in Islamabad.

Furthering his earlier stance, Khan said, PTI has decided that it would only support candidate from Balochistan for the Senate chairman and candidate from Fata for deputy chairman.

Khan also used the opportunity to advise senators from Fata and Balochistan to resist any pressure exerted by the PPP and insist on their own candidates for the Senate. He said that senior PTI leadership was in close contact with Fata and Balochistan senators.

PTI leaders, including Khyber-Pakhtunkhwa (K-P) Chief Minister Pervez Khattak, Jehangir Khan Tareen, Shah Mehmood Qureshi and others, also held separate meeting with the independent senators from Fata and Balochistan to discuss the upcoming elections.

They told these groups that the party had decided to unanimously and unconditionally support a candidate from Balochistan in the Senate election for the chairmanship and from Fata for the deputy chairmanship.

Therefore, it is now up to the senators from Balochistan and Fata to get the support of the PPP for themselves. They were also assured that the PTI will make efforts to convince other like-minded groups of senators and political parties to support this proposal.

Challenge for PPP

The PTI has 12 senators and it has put its weight behind six newly elected independents from Balochistan for the office of the Senate chairman. By proposing to field candidate for deputy chairman from Fata, the PTI has put the PPP into a more difficult situation.

After their meeting with the PTI leaders, delegations of independents from Balochsitan and Fata had their meeting with PPP leaders later in the evening. The delegations told the PPP leaders that in case of division within the opposition ranks, the ruling coalition would easily grab both slots in Senate.

Zardari has been trying to secure the top slot of chairman for his party. The PPP is largest group in opposition with 20 senators. As a whole, it is the second largest party after the ruling PML-N which has 33 members in the 104-memebr senate. Senate has a total of 15 independents making them third largest group, though a couple of them had earlier hinted to support the ruling PML-N.

PML-N also considering Balochistan

In view of the new move of PTI, the ruling PML-N is now also weighing the option to choose a candidate from Balochistan in a bid to counter opposition parties.

A day earlier, the PTI chief Imran Khan met the independent  candidates who won Senate elections from Balochistan and 'handed over' the PTI's  12 votes in Senate to Balochistan Chief Minister Abdul Quddus Bizenjo, giving him a free hand to finalise name of Senate chairman` from Balochistan.

The move is said to have exerted pressure on the PML-N which is now considering the possibility of supporting the National Party's (NP) chief Hasil Bizenjo as candidate for upper house's chairman.  Bizenjo is presently a federal minister.

The NP is in alliance with PML-N at the centre and in Balochistan. Other option to have a PML-N-backed candidate elected from Balochistan is to support a nominee of the Pashtoonkhwa Milli Awami Party (PKMAP) but the name of any candidate has not come up so far, a source in the PML-N said.

"In case the PML-N supports any candidate from Balochistan, it would most likely be from outside the ruling party. We are not going to have the chairman elected from our party but we will push for having our deputy chairman," said a senior PML-N leader dealing with party politics in Balochistan.

PML-N delegation meets MQM-P factions

A day after the PPP leaders held meeting with the Muttahida Qaumi Movement (MQM-P) Bahadurabad faction, a PML-N delegation led by Sindh Governor Mohammad Zubair also visited Bahadurabad and PIB colony and held meeting with Farooq Sattar and Dr Khalid Maqbool Siddiqui.

Khawaja Asif is a security risk: Imran

Among others who accompanied Sindh governor include: Mushahid Ullah Khan, Asad Junejo  and Salim Zia. The delegation first went to the PIB and later held meeting with the Bahadurabad leaders.

Speaking to media at PIB, Sindh governor told the media they had come with a message of PML-N leader Nawaz Sharif to support his party's candidate for Senate chairman and vice chairman posts.

"The MQM has given positive response," governor said adding that federal government is attaching all importance to carry development projects in the Karachi.

Later, the PML-N delegation called on Dr Khalid Maqbool Siddqui and during the media talk, Sindh governor was also hopeful to get their support too.  "We will consult with our Rabita Committee and then announce our support," Siddiqui said.

PPP trying to put its house in order

Zardari's reaction two days back over the PML-N proposal to field outgoing Senate Chairman Raza Rabbani for another term, created anger in a segment within the PPP. Rabbani in his farewell speech in Senate dropped a hint that he might not even take oath as senator on March 12 for his new term.

Another PPP ideologue Senator Farhatullah Babar has had to resign as the PPP spokesman after his farewell speech in which he criticised his party for compromising on its principled stance on a number of issues.

For a damage control exercise, the PPP top leadership first sent MNA Naveed Qamar to accost Rabbani in his chamber. After this meeting, the PPP Chairman Bilawal Bhutto met Rabbani at his residence.

"The meeting took place in the backdrop of recent political developments revolving around Senate elections.  In the meeting PPP chairman praised Raza Rabbani's services to the party.

"Raza Rabbani assured the chairman PPP to continue to play an active political role in whatever position party leadership assigns him," the PPP said in a press statement issued after this meeting. The PPP sources said Rabbani would now take oath as senator with other newly elected members on Monday.


COMMENTS
Comments are moderated and generally will be posted if they are on-topic and not abusive.
For more information, please see our Comments FAQ