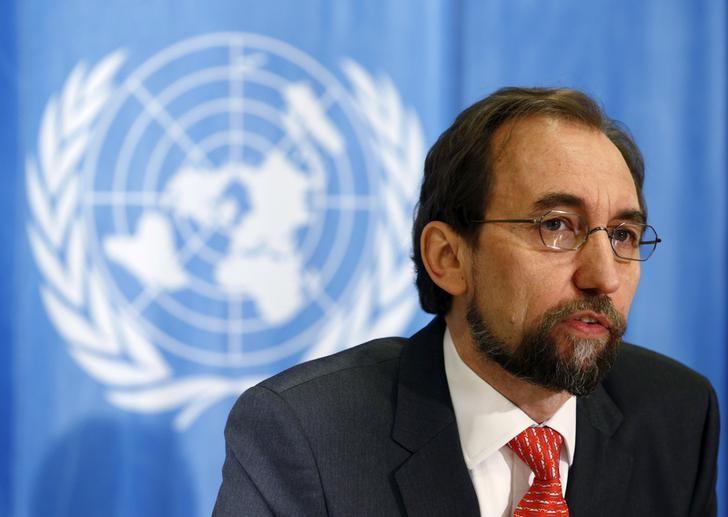 ---
GENEVA: The top United Nations human rights official called on Friday for the UN General Assembly to refer alleged atrocities committed against the Muslim Rohingya minority in Myanmar to the International Criminal Court (ICC) for prosecution.

Zeid Ra'ad al Hussein, UN High Commissioner for Human Rights, also urged Myanmar's government to allow monitors into northern Rakhine state to investigate what he called suspected "acts of genocide" against the Muslim minority.

"We are saying there are strong suspicions that, yes, acts of genocide may have taken place. But only a court can confirm this," Zeid told a news conference in Geneva.

Myanmar's press freedom in freefall

Earlier, Myanmar's military admitted that its soldiers murdered 10 captured Rohingya who it claims were "terrorists" during insurgent attacks at the beginning of September, after local Buddhist villagers had forced the men into a grave they had dug.

"Villagers and members of the security forces have confessed that they committed murder," the military said in a statement.

It was a rare admission of wrongdoing by the Myanmar military during its operations in the western state of Rakhine.

Myanmar military chief admits to murder of Rohingya Muslims

The army launched a sweeping counteroffensive in the north of the state in response to Rohingya militant attacks on 25 August, triggering an exodus of more than 650,000 Rohingya Muslim villagers.

The United Nations has condemned the army's campaign as ethnic cleansing. Myanmar denies that, saying its forces were carrying out legitimate counterinsurgency operations.
COMMENTS
Comments are moderated and generally will be posted if they are on-topic and not abusive.
For more information, please see our Comments FAQ