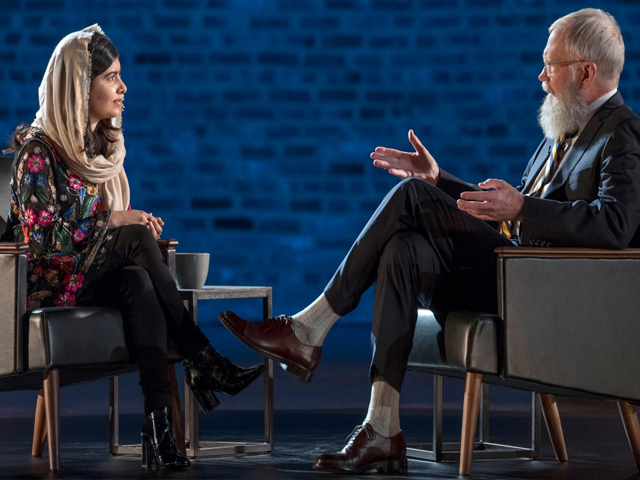 ---
David Letterman's Netflix show, My Next Guest Needs No Introduction, saw former US President Barack Obama as the first guest. The host refused to discuss Donald Trump and his policies with him.

Similarly, the 45th president did not come up during the former Late Show host's chat with George Clooney.

But when he sat down with the youngest Nobel Prize Winner Malala Yousafzai for the show's third episode, he decided to question her about Trump, reported The Hollywood Reporter.

"What do you think about President Trump?" Letterman asked the 20-year-old activist in their hour-long conversation. It was a question many viewers wish he had posed to Obama.

Rare sighting: Malala Yousufzai shows support for Akshay Kumar's 'PadMan'

Instead of answering to him, Malala threw the question back at him. "Well, I'm in the UK, so what do you think about him?" she asked, deftly, raising up her hands in surrender.

Letterman laughed, telling her, "I have many things to say on this topic. And you want me to be candid, right?"

"I believe… oh, boy," he continued, cautiously. "I feel personally, not politically, but personally, he is not fit to represent me. I don't think he's fit to represent anyone in this room."


From there, Yousafzai agreed with him, zeroing in on Trump's proposal to bar all Muslim immigrants from entering the country,

"I know, a ban on Muslims! And I'm a Muslim," she said. "Some of the things have really disappointed me, things about sexual harassment and a ban on Muslims and racism. You see all these things and you feel that America, being known for human rights and a country of liberty and freedom, that country should be leading in terms of human rights."

After this, Yousafzai talked about education, the role any government should play in it and the right to education.

London brings fathers of Mashal, Malala together

"The governments need to invest more money into education. Business people, everyone who is part of society, they need to start thinking about investing in girls and their education. We just need an ambition and an intention. What to do is then easy," said the Nobel Prize laureate.

"I would hope that many people would have stood up and stood up against extremists, against not just the extremists, not just the people, but against the ideology," she answered frankly.

"Because that's what we have to fight against: the ideology that exists there that does not accept women as equal to men [and] that does not accept women to have the right to education," Yousafzai further added.

However, she previously agreed that she was too nervous about appearing on Letterman's show.

India honours Malala with a mural painting for voicing girls' education

"David Letterman has that magic. I felt really comfortable talking to him and he gives you that friendly environment that you can share your thoughts," she told PEOPLE. "You can share your ideas from your heart. That's how I felt."

Malala continued, "In the beginning, before I joined university, I was really nervous because I was worried about how I would make friends," she said. "People knew me already and that was challenging for me to be there as a student and not to be there as a person who's already known in the media."

However, Malala was welcomed with open arms. "But once I came, everyone here just welcomed me as a friend and I was just so happy that I am part of Oxford. I am just an Oxford student and I think that's how they treat me."

Speaking about her experience at Oxford, she said, "It is an amazing time of my life, because I'm getting to know people of my age a bit more."

Have something to add to the story? Share it in the comments below. 
COMMENTS (2)
Comments are moderated and generally will be posted if they are on-topic and not abusive.
For more information, please see our Comments FAQ