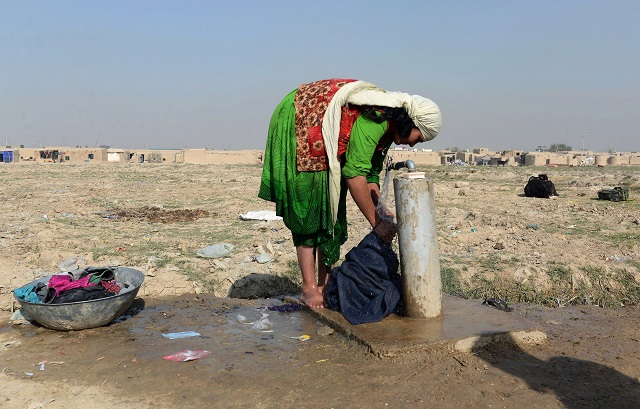 ---
MAZAR-I-SHARIF, AFGHANISTAN: Afghanistan's Jogi tribe live on a knife edge: forced to abandon their nomadic lives after violence wrecked their traditional wandering grounds, they still face daily discrimination trying to carve a more sedentary existence in a country that does not recognise them as proper citizens.

Many from the ethnic minority opted to settle near Mazar-i-Sharif, the capital of the relatively peaceful Balkh province, where they have built neat, mud-brick houses on rented land but their position is precarious.

Afghanistan stops repatriation of temporarily displaced persons

Afghanistan's constitution does not explicitly recognise the Jogi as Afghans, making it difficult for them to obtain a tazkira, an identification document needed for any administrative procedure including buying the land they would need to settle permanently.




To obtain a tazkira the applicant's father or elder brother must already have one.

The community's leader Mullah Wural says they could be evicted at any time.

It is part of a pattern of discrimination and violence that the Jogi - also called 'Jat' in Dari, a name as pejorative as 'Roma' in Europe - have suffered since arriving in Afghanistan in the mid-nineteenth century from other parts of Central Asia.

These Sunni Muslims are distinguished from the rest of Afghanistan's conservative and ethnically diverse population by their social customs - namely how women play an equal role to men in economically supporting their families.

Lightly veiled and wearing bright coloured dresses, they can be seen in Mazar's streets begging and reading palms, a striking sight in a gender-segregated country where most women are kept behind walls.

"The Jogi are the most open community in the country," boasts Wural.




But, though the Jogi men work also, often as day-labourers or caring for livestock, many Afghans accuse them of prostituting their wives while they stay at home and do nothing.

"The prejudice is so strong, it's overwhelming," says German anthropologist Annika Schmeding, who documented discrimination against the Jogi community in a 2015 report for NGO People in Need (PIN).

Playful 12-year-old Fodar jumps from one courtyard to another as a cow's ear broth simmers in a pot and chickens busily peck at the ground.

He has managed to enrol in a public school because his family was able to secure him a tazkira owing to his father already holding one.

Because most Jogi are effectively stateless, they also have limited options to move beyond Afghanistan's borders.

Musician Haji Rangin says he has missed out on gigs abroad because he does not have an identity document.

Sitting on a carpet between his son on the drums and his brother on a type of violin, he takes his long-handled traditional Uzbek guitar and strikes the strings with a hand adorned with little bells.

The sound draws curious children from the street to listen.

"I get inspired by my community, by my roots. Sometimes when I start the music and specific poems the men start crying," Rangin tells AFP.

"I just wish sometimes to be counted as a citizen of this country... There is no discrimination when it comes to music," he smiles.




"The problem is, to get a tazkira you have to get registered with somebody of your family who already has a tazkira," says Schmeding, who believes that the tazkiras held by Jogi are often fake.

"It's very difficult to check if it's legal or not," she explains.

Most Afghans do not consider the Jogis fellow citizens, no matter how long they have been in the country, she says.

Often politicians will not speak for the group for fear of upsetting the majority of the public.

"It's a sensitive issue," agrees Homayoun Mohtaat, director of the population bureau at the Ministry of the Interior.

In 2006, he says, the Jogi petitioned Afghanistan's parliament for official legal recognition.

Official estimates put the total population at 20,000 to 30,000 people, mainly in northern Afghanistan. "So far, 1,300 tazkira have been issued, in Kunduz and Mazar," Mohtaat said.

50 displaced families return from Afghanistan after 4 years

But the presidential decree that would give them legal status across the country is still pending. In a country with so many problems the plight of the Jogi is not a priority.

And even if it is delivered, discrimination and social prejudice may be harder to root out.

Schoolboy Fodar says he is bullied by other children at school.

He reveals: "Every day I paint something for them and I offer them the painting to buy peace; if not they beat me."
COMMENTS
Comments are moderated and generally will be posted if they are on-topic and not abusive.
For more information, please see our Comments FAQ