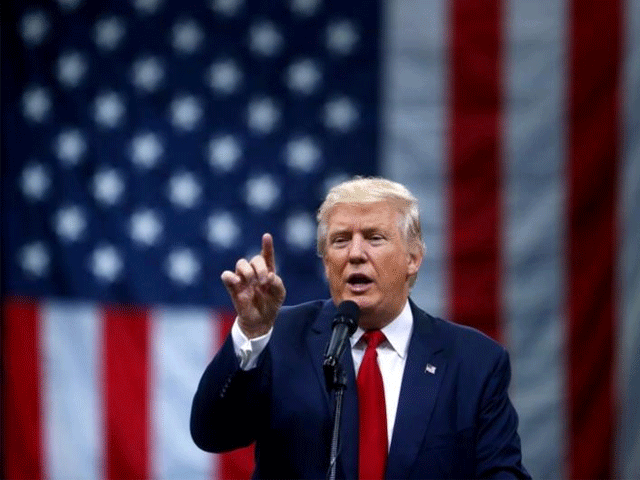 ---
WASHINGTON: North Korea seems "sincere" in its apparent willingness to suspend nuclear tests while it held denuclearization talks with US officials because the government is being hurt by tougher sanctions, US President Donald Trump said on Tuesday.

Trump declined to say whether he had any preconditions for talks with Pyongyang as officials in the United States, South Korea and China responded with caution to the possibility following months of insults and threats of war between Trump and North Korean leader Kim Jong Un.

"I think that they are sincere. And I think they're sincere also because of the sanctions and what we're doing with respect to North Korea, including the great help that we've been given from China,"

Trump said at a news conference after meeting with Prime Minister Stefan Lofven of Sweden, which represents US interests in North Korea.

Word of possible talks was delivered by a South Korean delegation on its return from a first-ever meeting with North Korean leader Kim in Pyongyang on Monday.

US sanctions North Korean missile experts, Russia offers to mediate

A senior administration official said North Korea has earned US skepticism for breaking all previous agreements over its nuclear program but the Trump administration is open-minded about potential talks with Pyongyang.

Some US and South Korean officials said a breakthrough on the Trump administration's top national-security challenge remained unlikely after the failure of previous talks, adding that North Korea may be trying to buy time to develop its weapons programs and seek relief from punishing American and UN sanctions.

More than 10 hours since Seoul made the announcement, there was no comment from Pyongyang.

Earlier Trump told reporters in the Oval Office as he met with Lofven that the United States had "come a long way, at least rhetorically" with North Korea and "statements coming out of South Korea and North Korea have been very positive."

Asked if he had any preconditions for talks, Trump said, "I don't want to talk about it. We're going to see what happens." US Vice President Mike Pence said the United States would continue to apply "maximum pressure" on North Korea and that all options were "on the table" until Washington sees evidence that the reclusive country was taking steps toward denuclearization.

North Korea reopens border hotline as Trump boasts of 'bigger' nuclear button

Lofven said Sweden could provide a channel for the main parties grappling with the North Korea nuclear issue because of its longtime diplomatic relations with Pyongyang.

"It is not up to us to solve the problem but with our presence ... if the key actors ask us to help we can be there,"

Lofven told the news conference. North Korea and South Korea next month will hold their first summit since 2007 at the border village of Panmunjom, said Chung Eui-yong, the head of the South Korean delegation.

"North Korea made clear its willingness to denuclearize the Korean peninsula and the fact there is no reason for it to have a nuclear program if military threats against the North are resolved and its regime is secure," Chung told a media briefing.

Chung cited North Korea as saying it would not carry out nuclear or missile tests while talks with the international community were under way. North Korea has not carried out any such tests since last November.

North Korea also is willing to discuss normalizing ties with the United States, Chung said. Trump earlier in the day on Twitter cited "possible progress" but said it may be "false hope."

A US State Department spokeswoman said Trump is being "appropriately realistic" about North Korea. Tensions have eased significantly between North and South Korea since the Winter Olympics in the South last month, even though the countries are technically still at war because their

1950-53 conflict ended in a truce rather than a peace treaty. Since North Korea pulled out of so called six-party denuclearization talks in 2009, Pyongyang has developed new nuclear capabilities.

It tested its largest-ever intercontinental ballistic missile in November, which it said could reach all of the US mainland. China encouraged North and South Korea to continue reconciliation efforts.

Despite skepticism about Pyongyang's intentions, the prospect of talks represents a significant potential development after heightened tensions and rhetoric between Kim and Trump, who last August threatened "fire and fury" if the North threatened the United States again.

White House national security adviser H.R. McMaster and other Trump administration officials are due to meet this week with South Korean officials, including the South Korean national security adviser, two White House officials said.

Global stock markets rose on the news about North Korea. The broadest gauge of shares, MSCI's All Country World Index , rose 0.7 percent. 'TREASURED SWORD' North Korea has vowed never to give up its nuclear program, which it calls a "treasured sword" against a possible US invasion.

US demands crippling new North Korea sanctions

The United States stations 28,500 troops in South Korea but denies any invasion plans. If Pyongyang demands the departure of those troops, that could render any summit talk impossible, a South Korean government official said.

"If the North were to move things forward, they would present something more realistic and doable," said the official, who spoke on condition of anonymity.

In Washington, US intelligence officials said it was too early to assess North Korea's willingness on denuclearization. "Hope springs eternal but we need to learn a lot more relative to these talks. And we will," US Director of National Intelligence Dan Coats told a Senate Armed Services hearing.

Lieutenant General Robert Ashley, director of the US Defense Intelligence Agency, told the same hearing he did not share a sense of optimism, adding, "That's kind of a 'show me,' and so we'll see how this plays out."

Satellite images from last week indicate North Korea may have resumed plutonium production, presumably for its weapons program, according to Washington-based monitoring program 38 North.