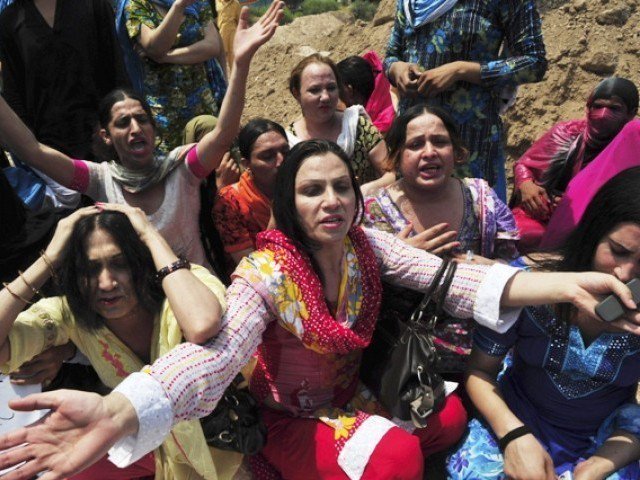 ---
Despite help from the Supreme Court decisions and important legislation by parliament, members of Pakistan's transgender community believe the progress often feels distant on the ground.

The marginalised sexual minority has a long history of being considered outcasts in the sub-continent.

The British, before the partition in 1947, viewed the community, often referred to as hijras, as a menace to public decency and morality, attempting to criminalise their begging and even classifying the group as a "criminal tribe" in 1871.

Decades after gaining independence from the British, successive governments in Pakistan have sought to protect the sexual minority and guarantee their rights, Al Jazeera reported.

Thanks to a 2009 Supreme Court decision that awarded them classification as a distinct category, they are now considered as a separate gender in the country like in neighbouring India, Bangladesha and Nepal.

In 2011, the group received the right to vote, and a year later, the government awarded them the right to inheritance, promising them equal treatment under the law. Last year, Pakistan also counted transgenders as a separate category in the census.

But for the transgender community on the ground, these developments often feel distant.

Another first in K-P: 30 transgender persons get driving licences

"The main area of concern for transgenders is the accessibility of services," said Qamar Naseem, a programmed coordinator at Blue Veins, a Peshawar-based organisation that works with the transgender community.

He said the community struggled with systemic violence and discrimination in accessing health services, affordable housing, transportation and alternate livelihood options.

In January, a transgender was gang-raped by a criminal group in Peshawar. In another gruesome case in 2016, Alisha, a transgender who was gunned down in the same area, died when a hospital tried to decide whether to admit her to the male or female wing.

However, transgender activists think that legal protections can make a difference.

Today, Jannat Ali, a transgender woman in her twenties, is free to perform the classical Bollywood dances on stage, without familial pressure constricting her choices.

Transgender rights bill rejected as flawed

"Dance is my best friend. At least I have a platform where I can be myself," she said.

Ali recently joined other transgenders in taking up a mentor, saying that if she is ever spurned by her kin, there would be a backup option. "I will have another family," she said, half-joking. Right now, however, she said there's no issue between her and her family.

"There's a tolerance - maybe because I'm taking care of them," she was quoted as saying.

Although Ali is among the few transgenders who retains family support, it was not always this way.

At one point, Ali's sibling accused her of tarnishing the family name and contributing nothing to the family, even though she was their primary breadwinner.

"I have been earning for seven years," Ali recalled telling her family. "I did not save anything for myself," she added.

This article originally appeared on Al Jazeera.
COMMENTS
Comments are moderated and generally will be posted if they are on-topic and not abusive.
For more information, please see our Comments FAQ