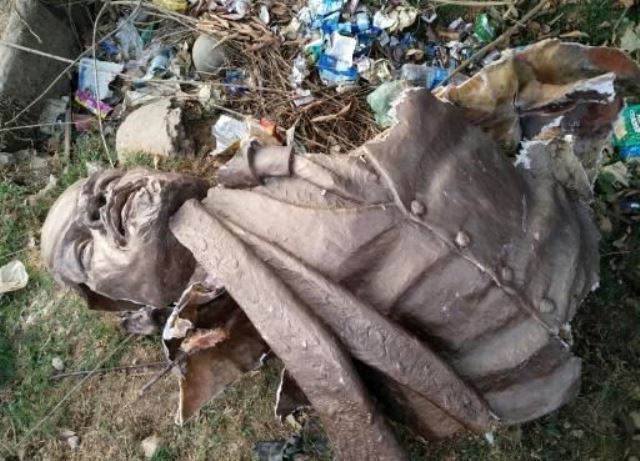 ---
NEW DELHI: India's ruling party warned its supporters on Tuesday they were not above the law after a mob celebrating an election victory against communist opponents bulldozed a statue of Vladimir Lenin.

Police in the remote state of Tripura said they were investigating more than a dozen complaints of arson, violence and vandalism in the wake of the Bharatiya Janata Party's (BJP) win at the weekend election.

An alliance led by the Hindu nationalist party of Prime Minister Narendra Modi crushed the incumbent communists -- who had ruled the small northeastern state for a quarter-century -- in a unexpected landslide.

Modi jubilant as BJP leads in India's northeast regional elections

The thumping victory kicked off a frenzied celebration by BJP supporters which degenerated into clashes with their communist opponents and rioting.

Police launched an investigation after a mob -- many wearing the saffron colours popular with BJP supporters -- on Monday flattened the statue of Lenin with a bulldozer.

"We arrested a person who was driving the bulldozer that toppled the statue," Tripura police spokesperson Pradip De said.

"We have received at least 14 complaints of post-poll violence, clashes, arson attacks and damage to property."

Images of the jeering mob reducing the statue to rubble sparked condemnation and a rebuke from the soon-to-be BJP state leader in Tripura.

"Anyone involved in anything like this will face action as per law," Biplab Kumar Deb, BJP's chief minister-designate, told reporters Tuesday.

Modi jubilant as BJP leads in India's northeast regional elections

But a major BJP campaigner in Tripura said the crowd was responding to a "symbol of oppression".

"This is simple catharsis," Rajat Sethi, the BJP northeast poll campaigner said.

"It's a good and legitimate form of expressing their resistance against their symbol of oppression."

Indian communist figures decried what they described as a wider assault on democracy.

"The destruction of the statue of Lenin is symbolic," said the Communist Party of India (Marxist).

Lynch mob drags alleged child-killers from India police station

"These attacks demonstrate, once again, that... (the BJP) rely mainly on unleashing political violence as means to advance their inherent anti-democratic agenda."

Critics of Modi's BJP say Hindu vigilantes have been emboldened since the party swept to power in 2014.

The BJP now rules 22 of India's 29 states and territories either outright or in an alliance.

Tripura, one of India's smallest states with just four million people, had been a bastion of communist politics for 25 years.

Kerala, in India's south, remains the last holdout where the Communist Party of India (Marxist) rules with its allies.
COMMENTS
Comments are moderated and generally will be posted if they are on-topic and not abusive.
For more information, please see our Comments FAQ